The Department of Chemistry Graduate Program offers students opportunities in cutting-edge research that span various fields in chemistry, biochemistry and interdisciplinary areas. Research-intensive programs lead to MS and PhD degrees in Chemistry, giving talented, motivated students an opportunity to participate in discovery-based and applied research. Our programs allows for a personalized graduate experience, where students become the primary expert in their research field and contribute to a targeted original project.
Our Department offers MS and PhD degree programs, in addition to an accelerated master's (BS-MS) degree program. The PhD program is meant for students who aim to become an expert in a field of research and contribute to that field through research and independent contributions. PhD students must demonstrate mastery of subject matter in a field of study and demonstrate competence through individual research investigation that represents a significant contribution to the field. The MS program provides an advanced research-based experience with coursework and a tailored thesis project. Learn more about our programs below: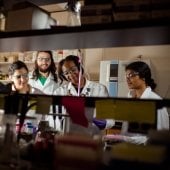 Join our research-intensive graduate program, and contribute to discoveries in chemical science, biochemistry, or a cognate discipline. Our faculty and graduate students have advanced research in areas including:
Nanomaterials for detection in nanomedicine
Surface science and interface chemistry of heterogeneous materials
Biochemistry of proteins involved in neurodegenerative diseases
Chemical toxicology and cancer research
Glycobiology
Gene recognition
Applied quantum chemistry
Atmospheric chemistry
Environmental chemistry
Catalysis
Fluorescent probes and biomedical sensors
Polymer chemistry, materials, and nanomaterials
Synthetic DNA
Our program will prepare you for your future challenges in education, industry, and beyond.
---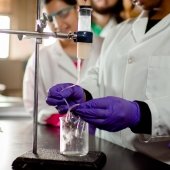 This accelerated plan allows students to combine a Master's degree in chemistry with any Bachelor's degree offered by the Department of Chemistry. Students enrolled in the Chemistry Accelerated Master's (BS-MS) program begin graduate course work during the fourth year and complete the requirements for both their Bachelor's and Master's degrees in five years of full-time study. Upon graduation, you will be prepared to succeed in industry or in a chemistry doctoral program.
---
Areas of Interest
Theoretical/Computational Chemistry

Interdisciplinary Opportunities
The department is associated with some dynamic interdisciplinary degree programs, giving our students additional opportunities for graduate study:
Biochemistry and Molecular Biology—PhD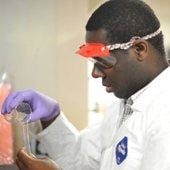 The Biochemistry and Molecular Biology program at Michigan Tech is where pioneering PhD students and expert faculty come together and seek answers to some of the world's most pressing problems. This interdisciplinary program—built on the strength of preexisting graduate programs in biological sciences, chemistry, and forest molecular genetics/biotechnology—provides students with the opportunity to focus on the study of biochemistry and molecular biology within a variety of subject areas.
Learn More About the PhD in Biochemistry and Molecular Biology
---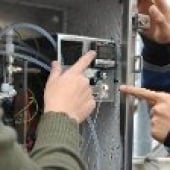 The interdisciplinary PhD in Atmospheric Sciences provides students with an understanding of the physical, chemical, and biological processes affecting the atmosphere, as well as a foundation in the fundamentals of specific atmospheric systems. Students work with faculty spanning five departments, who incorporate expertise and research over multiple areas of emphasis, and contribute solutions to the most challenging atmospheric science questions of our day.
---
Environmental Engineering—PhD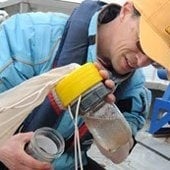 The PhD in Engineering (Environmental) is designed for the pursuit of advanced, interdisciplinary studies in environmental engineering. The professional discipline of environmental engineering seeks to improve and maintain the environment for the protection of human health, for the protection of nature's beneficial ecosystems, and for the environment-related enhancement of the quality of human life.
---
Department Graduate Requirements
The following graduate degree requirements will help you stay on track:
This is a brief overview of the requirements for an MS degree from the Department of Chemistry:
A minimum of 30 credits. At least 20 of the 30 must be course credits, and at least 12 of the course credits must be at the 5000 level or higher. Also, a minimum of 6 research credits are required.
MS thesis
Presentation of research in a seminar followed by an oral defense
Proof of mastery of chemistry concepts through passing placement exams or department courses
PhD Degree Requirements
This is a brief overview of the requirements for a PhD degree from the Department of Chemistry:
A minimum of 60 credits:

Qualifying Examination (Research Update)
Original research proposal
PhD Dissertation
Oral Defense of PhD Research
Proof of mastery of chemistry concepts through passing Placement Exams or Department Courses
Learn More About Chemistry PhD Requirements
ACS Bridge Program
The ACS Bridge Program (ACS-BP) is open to prospective Black, Latinx, and Indigenous students who meet the eligibility criteria, exhibit academic promise and plan to pursue a doctoral degree in the chemical sciences to broaden participation and diversity in graduate education.
Successful applicants will receive financial support from the institution where they are accepted. Learn more about the Bridge Program and current year application deadlines.
Administrative Policies
The department's administrative policies for co-op/internship leaves of absence and travel funding follow:
Co-op or Internship Leave Policy
Graduate students can sometimes benefit from experience in laboratories outside Michigan Tech. Co-op leave can be granted in specific circumstances. Specifically:
The advisor must grant approval before positions are sought or applied for.
The planned leave must be of clear benefit to the student and must not disrupt funded research projects.
The student must submit a letter to the GPC and department chair explaining how the experience benefits his or her research and career goals, and detailing a timeline to completion of the degree program.
Additional stipulations may be defined by the GPC or advisor.
Final approval for co-op leaves rests with the Graduate Programs Committee.
If you feel that you would benefit from a co-op experience, you must discuss this option with your advisor in advance of any applications. Leave will not be granted otherwise.
The department, at the chair's discretion, will pay registration fees for graduate students who present their work at professional meetings. In some cases, additional travel funds (currently up to $250) may be provided. To apply for this support, before you travel:
Submit a copy of your abstract, signed by your advisor, to the Graduate Assistant.
Attach a page of information about the meeting.
Include a statement on how the meeting will benefit your research and professional development.