Xiaohu (Mark) Tang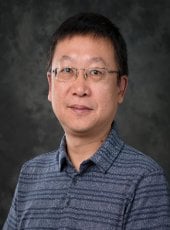 Assistant Professor, Biological Sciences
PhD, The Weizmann Institute of Science
Summary
The focus of the Laboratory of Cancer Metabolism and Functional Genomics is to characterize the regulation of cell metabolism and to determine the role of nutrients during cancer initiation and progression. In this perspective, we are aiming to understand the underlying mechanisms and pursue alternative and feasible means to apply on patients. In addition, understanding of diet-cancer interactions could establish a strategy for long-term cancer prevention.
Undergraduate students, visiting students and scholars are welcome to inquire. Previous research experience with molecular and cell biology is preferred.
Research Interests
Cancer Genetics and Metabolism
Mechanisms of Cancer Initiation and Progression
Functional Genomics and Bioinformatics
Interactions of Diet and Nutrition with Cancer
Recent Publications
https://scholar.google.com/citations?user=aVnJKE4AAAAJ&hl=en
Cystine addiction of triple negative breast cancer associated with EMT augmented death signaling. Tang X, Ding CK, Wu J, Sjol J, Wardell S, George D, Donald P. McDonnell DP, Hsu DS, Chang JT, Chi JT. Oncogene, 2016 Nov 21.
Cystine deprivation triggers programmed necrosis in VHL-deficient renal cell carcinomas. Tang X, Wu J, Ding CK, Lu M, Keenan MM, Lin CC, Lin CA, Wang CC, George D, Hsu, DS, Chi JT. Cancer Research, 2016 Apr 1;76(7):1892-903
ACLY and ACC1 Regulate Hypoxia-Induced Apoptosis by Modulating ETV4 via α-ketoglutarate. Keenan MM, Liu B, Tang X, Wu J, Cyr D, Stevens RD, Ilkayeva O, Huang Z, Tollini LA, Murphy SK, Lucas J, Muoio DM, Kim SY, Chi JT. PLoS Genet. 2015 Oct 9; 11(10)
Comprehensive profiling of amino acid response uncovers unique methionine-deprived response dependent on intact creatine biosynthesis. Tang X, Keenan MM, Wu J, Lin CA, Dubois L, Thompson JW, Freedland SJ, Murphy SK, Chi JT. PLoS Genet. 2015 Apr 7; 11(4)
A joint analysis of metabolomics and genetics of breast cancer. Tang X, Lin CC, Spasojevic I, Iversen ES, Chi JT, Marks JR. Breast Cancer Res. 2014 Aug 5;16(4):415
Acidosis induces reprogramming of cellular metabolism to mitigate oxidative stress. LaMonte GM, Tang X, Chen LY, Wu J, Ding CK, Keenan MM, Sangokoya C, Kung HN, Ilkayeva O, Boros LG, Newgard CB and Chi JT. Cancer & Metabolism. 2013 Dec 23;1(1):23
Functional interaction between responses to lactic acidosis and hypoxia regulates genomic transcriptional outputs. Tang X, Joseph Lucas JE, Ling-Yu J. Chen JL, LaMonte G, Wu J, Wang MC, Costantinos Koumenis Chi JT. Cancer Research. 2012 Jan 15;72 (2):491-502
A high-throughput screening method for small molecule inhibitors of the aberrant mutant SOD1 and Dynein interaction. Tang X, Seyb KI, Huang M, Schuman ER, Shi P, Zhu Z, Glicksman MA. Journal of Biomolecular Screen, 2012 Mar; 17(3): 314-26
Research Projects
Please contact Dr. Tang for lab practice and research.
Teaching Experience
Molecular Biology
Epigenetics
Cancer Biology
Research Capstone