Erika I. Hersch-Green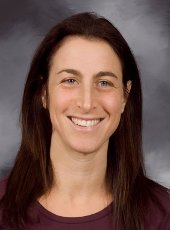 Assistant Professor, Biological Sciences
MS, University of California, Davis - Population Biology
PhD, University of Oregon - Ecology and Evolutionary Biology
Research Description
Erika is a plant evolutionary ecologist. Her work integrates the theory and techniques from population and community ecology, evolution, and functional, molecular and population genetics to disentangle the mechanisms that drive changes in terrestrial plant populations and their extended communities.
Current projects in the lab are diverse but generally fall into two non-mutually exclusive categories: (1) understanding how hybridization, gene or genome duplication (polyploidy), and breeding systems contribute to genetic diversity and affect evolutionary and ecological trajectories, and (2) understanding how plants interact with their environment and respond to multiple abiotic and biotic selection pressures including how they respond to environmental gradients, climate changes, and invasive species, and what makes species invasive in some ranges but not others.
Please contact Dr. Hersch-Green for more information on current research projects.
Also, please visit the lab webpage - http://www.bio.mtu.edu/~eherschg/
Links of Interest
Research Interests
Plant Evolutionary Ecology
Ecological Genetics
Eco-Evolutionary Dynamics
Recent Publications
Bangert, R., Ferrier, S. M., Evans, L., Kennedy, K., Grady, K. C., Hersch-Green, E. I., Allan, G. J., and T. G. Whitham. In Press. The proportion of three foundation plant species and their genotypes influence an arthropod community: restoration implications for the endangered southwestern willow flycatcher. Restoration Ecology.
Hersch-Green, E. I., H. Myburg, and M. T. Johnson. 2012. Adaptive molecular evolution of a defence gene in sexual but not functionally asexual evening primroses. Journal of Evolutionary Biology 25: 1576-1586.
S.M. Ferrier, R.K. Bangert, E. I. Hersch-Green, J. K. Bailey, G.J. Allan, and T.G. Whitham. 2012. Unique arthropod communities on different host-plant genotypes results in greater arthropod diversity. Arthropod Plant Interactions 6: 187-195.
Hersch-Green, E. I, N. Turley, and M. T. J. Johnson. 2011. Community genetics: what have we accomplished and where should we be headed? Phil. Trans. R. Soc. B. 366: 1453-1460.
Hersch-Green, E.I., and R.C. Cronn. 2009. Tangled trios, or something entirely different? Characterizing a hybrid zone in Castilleja (Orobanchaceae). American Journal of Botany 96(8): 1519-1531.
Hersch, E.I, and B. A. Roy. 2007. Context-dependant pollinator behavior: an explanation for patterns of hybridization among three species of Indian paintbrush. Evolution 61(1): 111- 124. Cover Photo.
Hersch, E.I. 2006. Foliar damage to parental plants interacts to influence mating success of Ipomoea purpurea. Ecology 87(8): 2026-2036.