Erika I. Hersch-Green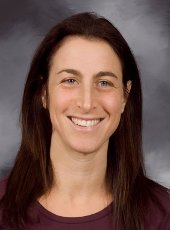 Associate Professor, Biological Sciences
MS, University of California, Davis - Population Biology
PhD, University of Oregon - Ecology and Evolutionary Biology
Research Description
Broadly speaking I am an evolutionary ecologist who studies how plants interact with their abiotic and biotic communities. My work integrates the theory and techniques from the disciplines of ecology, evolution, genetics, chemistry, and physiology. My research makes both fundamental and applied contributions and current projects include:
deciphering the interplay between the abiotic environment (especially nutrient eutrophication and water availability), the genomic structure (genome size and composition) of terrestrial plants, and multitrophic communities (plants, herbivores, pathogens, pollinators),
examining the efficacy of management efforts and the cultural, social, and ecological impacts of invasive plant (e.g., baby's breath, Eurasian milfoil) and/or insect (e.g., Spotted winged drosophila on soft mass fruit) species,
ecological and evolutionary consequences of hybridization,
pseudoflower formation and fungal ecology on huckleberries.
I enjoy teaching at all levels and try to incorporate my research program into undergraduate and graduate education. Currently I teach undergraduate courses in Ecology, Evolution, and Plant Sciences.
Current Research Interests
Plant Evolutionary Ecology
Ecological and Community Genetics
Genome Size and Polyploidy Evolution
Invasive Species Biology and Integrated Socio-Environmental Systems
Walczyk, A.M. and Hersch-Green, E.I. (2022), Do water and soil nutrient scarcities differentially impact the performance of diploid and tetraploid Solidago gigantea (Giant Goldenrod, Asteraceae)?. Plant Biol J, 24: 1031-1042.
Faizullah, L., Morton, J.A., Hersch-Green, E.I., Walczyk, A.M., Leitch, A.R., Leitch, I.J. 2021. Exploring environmental selection on genome size in angiosperms, Trends in Plant Science, Volume 26, Issue 10, Pages 1039-1049.
Bothwell, H. M., Evans, L. M., Hersch-Green, E. I., Woolbright, S. A., Allan, G. J., and Whitham, T. G.. 2021. Genetic data improves niche model discrimination and alters the direction and magnitude of climate change forecasts. Ecological Applications 31( 3):e02254.
Walczyk A, and Hersch-Green, E. 2019. Impacts of soil nitrogen and phosphorus levels on cytotype performance of the circumboreal herb, Chamerion angustifolium (Onagraceae): implications for polyploid establishment. American Journal of Botany 106(7): 906-921.
Bales A, and Hersch-Green, E. 2019. Diploid disadvantage disappears under increased soil nitrogen availability in fireweed, Chamerion angustifolium (Onagraceae). Ecology and Evolution 9(3):1095-1109.
Bothwell H, Cushman S, Woolbright S, Hersch-Green E, Evans L, Allan G, Whitham T. 2017. Conserving threatened riparian ecosystems in the American West: Precipitation gradients and river networks drive genetic connectivity and diversity in a foundation riparian tree (Populus angustifolia). Molecular Ecology 26(19): 5114-5132. Read More
Grady K, Wood T, Kolb T, Hersch-Green E, Shuster S, Gehring C, Hart S, Allan G, Whitham T. 2017. Local biotic adaptation of trees and shrubs to plant neighbors. Oikos 126(4): 583-593.
Fischer D, Wimp G, Hersch-Green E, Bangert R, LeRoy C, Schweitzer J, Bailey J, Dirks C, Hart S, and Whitham T. 2017. Tree genetics strongly affect forest productivity, but intraspecific diversity-productivity relationships do not. Functional Ecology 31(2): 520-529.
Hersch-Green E, Allan G, and Whitham T. 2014. Genetic analysis of admixture and patterns of introgression in foundation cottonwood tree (Salicaceae) in southwestern Colorado, USA. Tree Genetics and Genomes 10(3): 527-539. Read More
Bangert, R., Ferrier, S. M., Evans, L., Kennedy, K., Grady, K. C., Hersch-Green, E. I., Allan, G. J., and T. G. Whitham. In Press. The proportion of three foundation plant species and their genotypes influence an arthropod community: restoration implications for the endangered southwestern willow flycatcher. Restoration Ecology
Hersch-Green, E. I., H. Myburg, and M. T. Johnson. 2012. Adaptive molecular evolution of a defence gene in sexual but not functionally asexual evening primroses. Journal of Evolutionary Biology 25: 1576-1586.
S.M. Ferrier, R.K. Bangert, E. I. Hersch-Green, J. K. Bailey, G.J. Allan, and T.G. Whitham. 2012. Unique arthropod communities on different host-plant genotypes results in greater arthropod diversity. Arthropod Plant Interactions 6: 187-195.
Hersch-Green, E. I, N. Turley, and M. T. J. Johnson. 2011. Community genetics: what have we accomplished and where should we be headed? Phil. Trans. R. Soc. B. 366: 1453-1460.
Hersch-Green, E.I., and R.C. Cronn. 2009. Tangled trios, or something entirely different? Characterizing a hybrid zone in Castilleja (Orobanchaceae). American Journal of Botany 96(8): 1519-1531.
Hersch, E.I, and B. A. Roy. 2007. Context-dependant pollinator behavior: an explanation for patterns of hybridization among three species of Indian paintbrush. Evolution 61(1): 111- 124. Cover Photo.
Hersch, E.I. 2006. Foliar damage to parental plants interacts to influence mating success of Ipomoea purpurea. Ecology 87(8): 2026-2036.