Chandrashekhar P. Joshi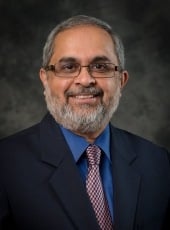 "Cellulose is the fiber of human civilization."
Emeritus Research Professor, Biological Sciences
Affiliated Professor, CFRES
PhD, Biochemistry, University of Poona, India
MS, Botany, University of Poona, India
BS, Botany, University of Poona, India
Unraveling the Mechanism of Cellulose Biosynthesis in Trees
I am a plant molecular biologist who is interested in understanding of how trees make cellulose. Simply put, cellulose is a chain of glucose molecules, and a large number of such cellulose chains weave together with other polymers to form plant cell walls. Cellulose biosynthesis is also one of the most ancient and essential life processes of plants.
Due to its omnipresence in terrestrial ecosystems, we use a large number of cellulose products in our day-to-day life in the form of paper, furniture, clothes, medicines and even food. Ironically, we knew little about how plants synthesize cellulose until recently. However, the last decade has witnessed remarkable progress in understanding the molecular mechanisms of cellulose biosynthesis using Arabidopsis, a small herb that has been a sweetheart to many plant scientists. I am attempting to understand whether majestic trees such as poplars and pines that make copious amounts of wood cellulose every year do this feat by using a similar mechanism. To that effect, we have cloned a large number of cellulose synthases and other related genes from poplars and are applying functional genomics approaches to clarify their roles in wood formation.
I love to teach classes in molecular genetics, genomics and bioinformatics/computational biology. When I clarify a difficult concept, it is always rewarding to see a twinkle of understanding in my student's eyes. I firmly believe that what I am today is because of my teachers, who took time to patiently explain the basic scientific concepts to me. You can learn almost anything if you understand the basics. I also teach a course on how to write successful grant proposals. So far, about 70 graduate students from a variety of disciplines have taken my course and some have even obtained funding for their own research. I always have open research positions for undergraduates and graduates to work in my lab, so feel free to drop me a line or call me. My doors are always open to curious minds!
Links of Interest
Research Interests: Biological Sciences
Areas of Expertise: Biology and Forestry
Cellulose and lignin biosynthesis in trees
Wood formation
Tree growth and development
Engineering trees
Forest bioinformatics/computational biology
Nookaraju, A., Pandey, S. K., Ahlawat, Y. K., & Joshi, C. P. (2022). Understanding the Modus Operandi of Class II KNOX Transcription Factors in Secondary Cell Wall Biosynthesis. Plants, 11(4), 493.
Ahlawat YK, Nookaraju A, Harman-Ware AE, Doeppke C, Biswal AK and Joshi CP (2021) Genetic Modification of KNAT7 Transcription Factor Expression Enhances Saccharification and Reduces Recalcitrance of Woody Biomass in Poplars. Front. Plant Sci. 12:762067. doi: 10.3389/fpls.2021.762067
AHLAWAT, Y.; Joshi, C.P. Overexpression of Arabidopsis Laccase2, Laccase4 and Peroxidase52 in hybrid poplar under developing xylem specific DX15 promoter improves saccharification efficiency in a woody biofuel feedstock, in Proceedings of the 1st International Electronic Conference on Plant Science, 1–15 December 2020.
AHLAWAT, Y.; Joshi, C.P. Genetic manipulation of KNAT7 transcription factor enhances saccharification by reducing recalcitrance in the bioenergy crop Populus, in Proceedings of the 1st International Electronic Conference on Plant Science, 1–15 December 2020.
Huang, J., Hao, X., Jin, Y. et al. Temporal transcriptome profiling of developing seeds reveals a concerted gene regulation in relation to oil accumulation in Pongamia (Millettia pinnata). BMC Plant Biol 18, 140 (2018).
Joshi, C. P. (2018, June). Cell Wall Biotechnology of Bioenergy Plants for Improved Biofuel Production. In IN VITRO CELLULAR & DEVELOPMENTAL BIOLOGY-ANIMAL (Vol. 54, pp. S14-S14). 233 SPRING ST, NEW YORK, NY 10013 USA: SPRINGER.
Shashank K. Pandey, Nookaraju Akula, Takeshi Fujino, Sivakumar Pattathil, and Chandrashekhar P. Joshi (2016) Virus Induced Gene Silencing (VIGS) Mediated Functional Characterization of Two Genes Involved in Lignocellulosic Secondary Cell Wall Formation. Plant Cell Reports, 35:2353-2367.
Puranik Swati, Kavitha S. Kumar, Oliver Gailing and Chandrashekhar P. Joshi (2014) Modifying plant cell walls for bioenergy production. CAB Reviews 9, 017, pp 1-10.
Nookaraju Akula, Shashank K. Pandey, Takeshi Fujino, Ju Young Kim, Mi Chung Suh, and Chandrashekhar P. Joshi (2014) Enhanced Accumulation of Fatty Acids and Triacylglycerols in Transgenic Tobacco Stems for Enhanced Bioenergy Production. Plant Cell Reports 33 (7) 1041-1052.
Sera Jung, Dae-Seok Lee, Yeon-Ok Kim, Chandrashekhar P. Joshi, and Hyeun-Jong Bae (2013) Improved recombinant cellulase expression in chloroplast of tobacco through promoter engineering and 5′ amplification promoting sequence. Plant Molecular Biology 83: 317–328. Published online in June 2013. DOI 10.1007/s11103-013-0088-2.
Nookaraju A, Pandey SP, Bae HJ and Joshi CP (2013) Designing cell walls for better bioenergy production. Molecular Plant 6 (1):8-10. doi: 10.1093/mp/sss111 First published online: October 5, 2012.
Liu Y, Xu F, Gou J, Al-Haddad J, Telewski FW, Bae HJ and C. P. Joshi (2012) Importance of Two Consecutive Methionines at the N-terminus of a Cellulose Synthase (PtdCesA8) for Normal Wood Cellulose Synthesis in Transgenic Aspen. Tree Physiology 32(11): 1403-1412 first published online October 17, 2012
Chandrashekhar P. Joshi, Shivegowda Thammannagowda, Takeshi Fujino, Jiqing Gou, Utku Avci, Candace H. Haigler, Lisa M. McDonnell, Shawn D. Mansfield, Bemnet Menghesa, Nicholas C. Carpita, Darby Harris, Seth DeBolt and Gary F. Peter (2011) Perturbation of wood cellulose synthesis causes pleiotropic effects in transgenic aspen. Molecular Plant 4(2) 331-345.
Zhu X, Pattahil S, Mazumdar K, Brehm A, Hahn MG. Dinesh-Kumar SP and C. P. Joshi (2010) Virus-induced gene silencing offers a functional genomics platform for studying plant cell wall formation. Molecular Plant 3 (5): 818-833.
Fuyu Xu and Chandrashekhar P. Joshi (2010) Overexpression of Aspen Sucrose Synthase Gene Promotes Growth and Development of Transgenic Arabidopsis Plants. Advances in Biosciences and Biotechnology 1: 426-438.
Manoj Kumar, Shivegowda Thammannagowda, Vincent Bulone, Vincent Chiang, Kyung-Hwan Han, Chandrashekhar P. Joshi, Shawn D. Mansfield, Ewa Mellerowicz, Björn Sundberg, Tuula Teeri, and Brian E. Ellis. An update on the nomenclature for the cellulose synthases genes from Populus. Trends in Plant Science 14(5):248-254, 2009.
Shanfa Lu, Laigeng Li, Xiaoping Yi, Chandrashekhar P. Joshi, and Vincent L. Chiang: Differential expression of three eucalyptus secondary cell wall- related cellulose synthase genes in response to tension stress. Journal of Experimental Botany 59: 681-695, 2008.
(Invited presentation) C.P. Joshi: Genetic engineering of poplars for biofuel production via altered synthesis of cellulose. Presented at Tree Biotechnology meeting at Whistler, BC, Canada during June 28-July 2, 2009.
C. P. Joshi, Brunner A, Busov V, Meilan R, Thammanagowda S, Tsai C.: Poplars. In: Compendium of transgenic crop plants: Transgenic forest tree species. C. Kole and T. Hall (Eds). Wiley-Blackwell Publishing, Oxford, UK. PP 1-34. 2008.
C.P. Joshi and S.D. Mansfield: The cellulose paradox: simple molecule, complex biosynthesis. Current Opinion in Plant Biology. 10: 220-226, 2007.