Janice Glime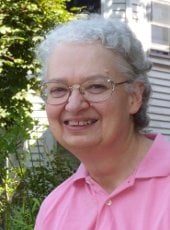 Contact
Professor Emerita, Biological Sciences
PhD, Botany, Michigan State University, 1968
MS, Botany, West Virginia University, 1964
BS, Elementary Education, Frostburg State College, 1962
Biography
Dr. Glime is the founder and manager of Bryonet-l (the internet discussion group sponsored by the International Association of Bryologists) and is ex officio council member (2009-2013) of the International Association of Bryologists as its outgoing president (2005-2009). In addition to bryophyte ecology, her primary interest is in training college teachers and in improving college level teaching, to which end she developed her own text for botany, laboratory manuals for organismal biology, botany, and bryology, and is writing an online encyclopedia on bryophyte ecology. She established the Department of Biological Sciences Learning Center and served as its faculty director.
Links of Interest
Research Interests
Ecology
Bryology
Moss Gardening
Bog Ecology
Stream Biology
Stream Insect Ecology
Shields, J., Webster, C. R., and Glime, J. M. 2007. Bryophyte community response to silvicultural opening size in a managed northern hardwood forest. Forest Ecology and Management (in press)
Bowden, W. B., Glime, J. M., and Riis, T. 2006. Macrophytes and bryophytes. Chapter 18. In: Hauer, F. R. and Lamberti, G. A. Methods in Stream Ecology. Elsevier, Boston. pp. 381-414.
Glime, J. M. 2006. Bryophytes and herbivory. Cryptogamie, Bryologie 27(1): 191-203.
Yayintas, O. T. and Glime, J. M. 2005. Second record of Grimmia unicolor for Turkey. Lindbergia 30: 113-115.
Liu, Y., Li, Z.-Y., Cao, T., and Glime, J. M. 2004. The influences of high temperature stress on cell damage and shoot survival rates of Plagiomnium acutum. Journal of Bryology 26: 265-271.
Peet, G. H., Crum, H. A., and Glime, J. M. 2003. Orthothecium diminutive discovered at Scott's Falls in Alger County, Michigan. Michigan Botanist 42: 103-104.
Saxena, D. K., Saxena, A., and Glime, J. M. Metabolic effects and glutathione mediated detoxification of copper and cadmium in Sphagnum squarrosum. Lindbergia (pending revisions).