Susan T. Bagley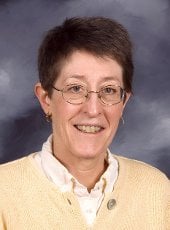 Professor Emerita, Biological Sciences
PhD, Oregon State University, 1978
Biography
Dr. Bagley has over 30 years experience as an environmental microbiologist working in academia and government (U.S. Environmental Protection Agency) on microbial-based treatment of air, soil and waterborne organic wastes, mutagenicity and toxicity of environmental pollutants, and microbial production of bio-based fuels and polymers. She has collaborated on multidisciplinary studies with Environmental, Chemical, and Mechanical Engineers, Chemists, and Forest Scientists for much of her career. Her current studies are focused on effecting systems-wide improvements in production of fuels and other materials using lignocellulosic biomass. Her current work focuses on the optimization of fermentation conditions (multi-scale) for conversion of biomass sugars from dilute acid and fast pyrolysis pretreatments to fuels, novel fuel additives, and other value-added products such as bio-polymers. These studies have provided extensive opportunities for both graduate (PhD/MS) and undergraduate student research projects. Dr. Bagley has administered funding in excess of $2M from government, industry, and foundations and has co-authored over 80 peer-reviewed articles and reports as well as proceedings' publications. Most of these studies have involved multidisciplinary collaboration with environmental, chemical, and mechanical engineers, chemists, and forest scientists. Dr. Bagley is also very active professionally, currently serving as President of the Society for Industrial Microbiology.
Research Interests
Environmental Microbiology
Biofuels
Bioprocessing
Environmental Toxicology
Donofrio, R., R. Saha, and S. Bagley. 2012. Molecular cloning of B. diminuta for efficacy assessment of reverse osmosis devices. Journal of Water and Health. 102: 278-789.
Saha, R, R. S. Donofrio, D.M. Goeres, and S. T. Bagley. 2012. Rapid Detection of rRNA group I pseudomonads in contaminated metalworking fluids and biofilm formation by fluorescent in situ hybridization. Applied Microbiology and Biotechnology 94(3):799-808.
Li, Bowen, Jian-Yang Hwang, J. Drelich, D. Popko, and S. Bagley. 2010. Physical, Chemical and Antimicrobial Characterization of Copper-bearing Material. JOM 62: 80-85.
Saha, R, R. Donofrio, and S. Bagley 2010. Development of a real-time TaqMan assay to detect mendocina sublineage Pseudomonas species in contaminated metalworking fluids. J Indust Microbiol. Biotechnology. 37: 843-848.
Donofrio, R., L Besterveldt, R. Saha, and S. Bagley. 2010. Quantitative real time PCR and fluorescent in situ hybridization approaches for enumerating Brevundimonas diminuta in drinking water . J Indust Microbiol. Biotechnology. 37: 909-918.
Donofrio, R., R. Saha, L Besterveldt, and S. Bagley. 2010. Selective enumeration strategies for Brevundimonas diminuta from drinking water. J Indust. Microbiol. Biotechnology. 37: 407-417.
Saha, R , C. Spraer, B. Beck, and S. Bagley. 2010. Pseudomonas oleovorans subsp. lubricantis subsp. nov., and reclassification of Pseudomonas pseudoalcaligenes ATCC 17440T as later synonym of Pseudomonas oleovorans ATCC 8062T. Current Microbiology 60: 294-300.
Xue, C., Velayudham, S. Johnson, S., Saha, R., Murthy, P., Bagley, S.T., and H. Liu. Highly water-soluble fluorescent conjugated fluorene-based glycopolymers with poly(ethylene glycol) tethered spacers for detection of Escherichia coli Chemistry – A European Journal 15: 2289-95.