Student Leadership & Involvement is excited to bring you the first virtual component of our student organization involvement fair, Keweenaw Day! This year, K-Day will be both in-person and virtual to continue a long-standing tradition of connecting student leaders with student organizations while also doing our best to maintain health & safety measures. On Friday, September 11 from Noon–5 p.m., students will have the opportunity to meet and engage with student organizations on a variety of virtual platforms.
Participating in Virtual K-Day
STEP 1: Involvement Link
Head to Involvement Link.
Involvement Link is our RSO database, which includes organization portals, an events calendar, and organizational news. Parents, staff, faculty, and prospective students can see our entire list of Registered Student Organizations, in addition to upcoming events. Current students may join any open organization, or be invited by one of the officers.
STEP 2: Click on Events
Navigate to the events tab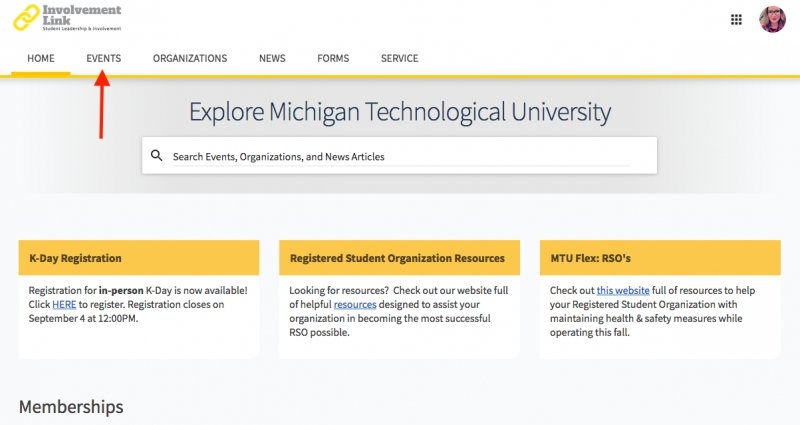 STEP 3: Select the Virtual Fair
Select the "K-Day 2020: The Involvement Zone!" virtual fair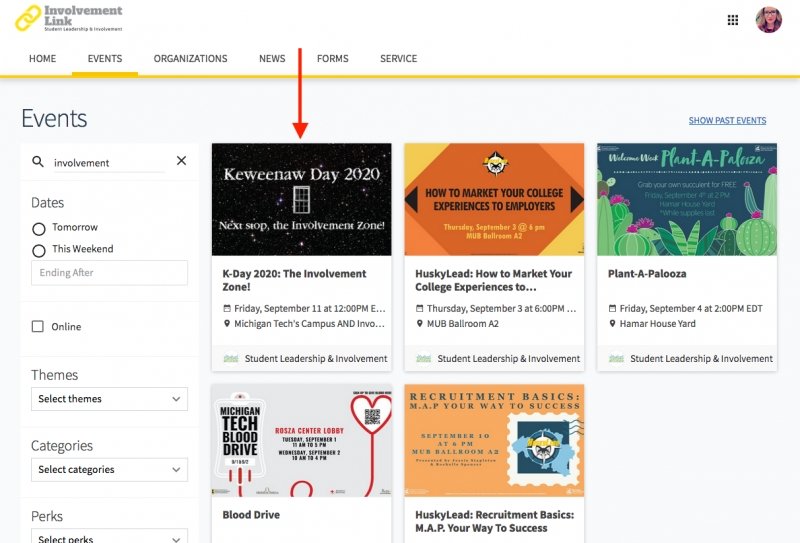 STEP 4: Virtual K-Day
Once you click on the Virtual Involvement Fair Card, you'll be instantly taken to the K-Day Virtual Involvement Fair. (Please Note: Clicking on the Involvement Fair Card outside the times of the fair will take you to the Fair's information page)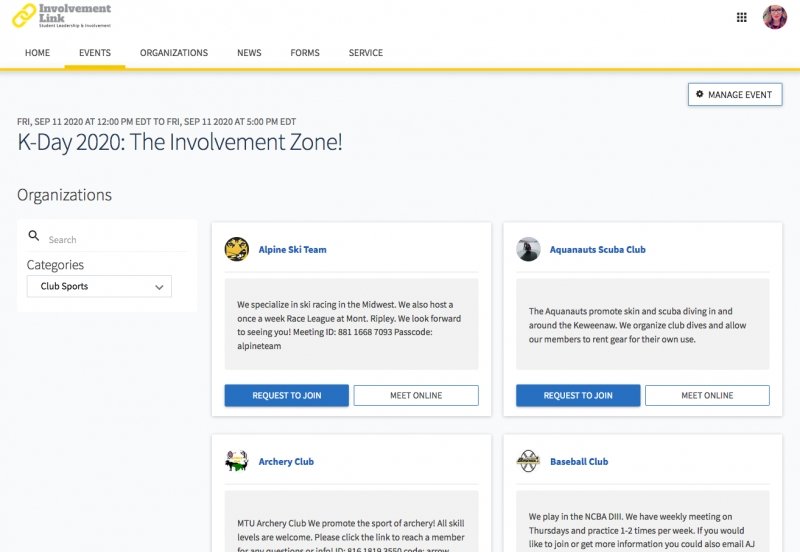 STEP 5: Explore!
Once in Virtual K-Day, you will be able to search for specific organizations by name and by category.
Clicking on an organization's "card" will take you to their Involvement Link page, clicking "Meet Online" will take you to their virtual "event", and clicking on "Request to Join" will send the RSO a request for you to be added to their Involvement Link roster.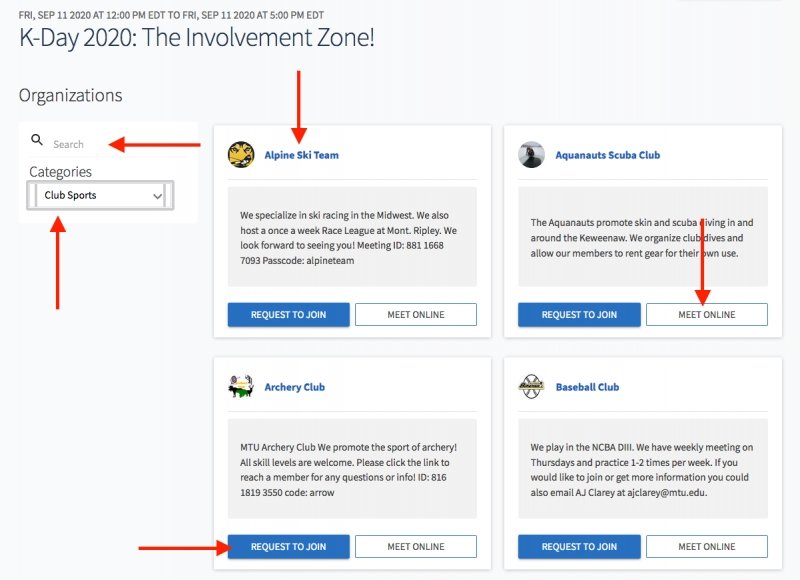 QUESTIONS?
Have questions? When you arrive at the Virtual K-Day Involvement Fair, you will notice a hyperlink to the Virtual Help Desk. This will take you to Student Leadership & Involvement's virtual front desk where we can help you troubleshoot any problems that arise.
Participating in In-Person K-Day
There is plenty to do during in-person K-Day! You'll find lots of new people, music, games, and more. Best of all, many of Michigan Tech's Registered Student Organizations will have booths set up all throughout campus so you can learn more about them and learn how you can get involved. With well over 240 Student Organizations at Michigan Tech, there is something for everyone!
During in-person K-Day, we require everyone wear a mask, follow the 6 foot physical distancing guidelines, and sanitize hands often.
SCHEDULE OF EVENTS:
Thursday, September 17
Advanced Metalworks Enterprise
Alpine Ski Team
Blue Key
Consumer Product Manufacturing Enterprise
Innovative Global Solutions Enterprise
Intervarsity Christian Fellowship
Mitch's Misfits
Mont Ripley Ski Patrol
Paintball Club
Phi Delta Chi
Event B: 1–3 p.m.
Ridge Roamers
Ski and Snowboard Club
Smithing Guild
Students for Sustainability
Student Leadership & Involvement
Swim Club
Theta Chi Epsilon
Women's Hockey
Women's Lacrosse
Monday, September 21
African Students Association
American Institute of Chemical Engineers
Alternative Energy Enterprise
Archery Club
Economics Club
Film Board
Geology/American Institute of Professional Geologists
Lutheran Collegians
Event C: 1–3 p.m.
Pre-health Association at Tech
Precision Drill Team
Strategic Education through Naval Systems Enterprise
Society of Women Engineers
Student Leadership & Involvement
Students for Life
Sustainable Van
Young Americans for Freedom
Tuesday, September 29
Student Leadership & Involvement
Tech Tutors
Sigma Phi Epsilon
Blizzard Baja
Built World Enterprise
Army ROTC
Club Basketball
Society of Automotive Engineers
MTU Sustainability House
Event D: 1–3 p.m.
Lambda Chi Alpha
Sigma Tau Gamma
Nordic Ski Club
His House
National Residence Hall Honorary
Wadsworth Hall Student Association
Fencing Club
Women's Ultimate
Society of Medical Lab Sciences
Orgs that already attended an in-person K-Day
Athletics
Copper Country Cycling Club
Cru
Delta Phi Epsilon
DevOps Club
Fastpitch Club Softball Team
Full Throttle Motorcycle Club
Golf Club of Michigan Tech
Kappa Delta Psi
Men's Rugby Football Club
National Society of Black Engineers
Outdoor Venture Crew
Panhellenic Council
Puck Recreational Club
Railroad Engineering and Activities Club
Rowing Club
SAE Aero Design
Society of African American Men
Steel Bridge Team
Tau Kappa Epsilon
Triangle Fraternity
Women's Rugby Football Club
Alpha Sigma Tau
American Society of Mechanical Engineers
Broomball
Delta Upsilon
Interfraternity Council
Keweenaw Pride
Water Polo Club
Women's Soccer
Above the Bridge Records
Alpha Gamma Delta
Alpha Phi Omega
American Society of Civil Engineers
Biomedical Robots
Black Students Association
Circle K International Service Organization
Concordia Student Ministries
Cubing Club
Delta Sigma Phi
Four Wheelers
Keweenaw Youth for Climate Action
Materials United
Men's Club Hockey
Mind Trekkers
MUB Board
Phi Kappa Tau
Sigma Pi
Swing Club
Tennis Club
The Lode
MedLife
Mining Innovation
Mushing Club
Organization for Information Systems
Sigma Rho
Snowboard Race Team
Society of American Foresters
St. Albert the Great
Undergraduate Student Government