Werner Vogt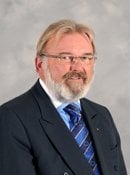 Werner R. Vogt, a native of Germany, was raised in Sault Ste. Marie, Ontario. He earned a BS in Physics from Michigan Technological University in 1966, and then studied business at the University of Michigan. His first position was with Union Carbide, and by 1971 he was promoted to Plant Manager of the Consumer Product Division in Geneva, Switzerland. While working for Union Carbide, Werner traveled worldwide to build plants for Union Carbide's battery and plastics operations in such countries as Germany, Philippines, Singapore, Ivory Coast, Ghana, and Greece. He speaks four languages: English, French, German, and Greek. In 1980, he became the General Manager of Speceram SA for the development and production of high-purity aluminum oxide ceramics.
In subsequent years, Werner has been involved in the start-up of several high-tech companies including a consulting business, Apinnova SA, which brought foreign high-tech companies to Switzerland and provided assistance for start-up firms. He also launched Amikles AG (which acts as an intermediary in industrial building rental leases and leaseback operations for multinational companies) and two industrial real estate partnerships in Switzerland, which build, rent, and sell industrial surfaces to Swiss and foreign companies. Currently, Werner serves as President/CEO or as a board member for 18 companies, some quoted on stock markets in the USA and Europe.
Werner is a member of the Lions Club, Confrerie des Chevaliers du Tastevin of Chateau Clos Vougeot, France, the American Institute of Physics, and is a past member of the Michigan Tech International Advisory Committee. Some of his other interests include scuba diving, fishing in Alaska, and spending several months each year at properties in Greece. Werner has three sons and a daughter. He and his wife Tamara live in Appenzell, Switzerland.
Excerpted from the 2010 College of Sciences and Arts Academy induction ceremony program.