Walter E. Kauppila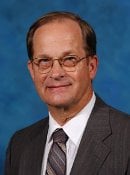 Professor Walter Kauppila graduated from Michigan Tech in 1964 with a BS in Physics. He attended graduate school at the University of Pittsburgh, from which he received a PhD in Experimental Atomic Physics. After post-doctoral work at the University of Colorado and a visiting professorship at the University of Missouri-Rolla, he joined the physics department at Wayne State University where he has been since 1972.
Professor Kauppila is the author and co-author of more than 200 publications, including 11 in Physical Review Letters, the most prestigious journal in physics. His work, which has had continuous funding from the National Science Foundation since 1976, focuses on positrons—the antimatter particle equivalents of electrons—and their applications in atomic collision experiments and spectroscopy. He was active on scientific organizing and nominating committees for national and international workshops and societies.
In addition to his considerable body of research and scholarship, Professor Kauppila always enjoyed teaching and explaining physics concepts in a straightforward and understandable manner. He has given numerous talks and physics-demonstration presentations to audiences from grade school children to an international FinnFest gathering ("From Manure to Antimatter: A Yooper's Journey").
For his many contributions and achievements, Professor Kauppila was recognized by being named a Fellow of the American Physical Society. His many recognitions include several Excellence in Teaching awards and his induction into Wayne State University's Academy of Scholars.
Excerpted from the 2006 College of Sciences and Arts Academy induction ceremony program.