Suzanne Jurva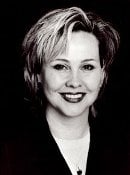 BS Scientific and Technical Communication 1982
Suzanne Jurva graduated from Michigan Tech in 1982 with a B.S. degree in Scientific and Technical Communication. She came to the film business after working first for Wisconsin Public Television in Green Bay. Other TV credits are with BBC, Fox, NBC, and MTV.
Suzanne is currently Feature Film Development Executive with Steven Spielberg's DreamWorks Studios were she created and heads the research department for feature films.
Her film credits include Amistad, Men in Black, Peacemaker (with world premier in Houghton), Deep Impact, Zorro, and Saving Private Ryan.
In recognition for her film research work, Jurva was invited to the 1998 Joint Civilian Orientation Conference. Earlier, Michigan Tech honored her with the 1996 Young Alumni Award.
From 1998 Induction to the College of Sciences and Arts Academy