Steven M. Short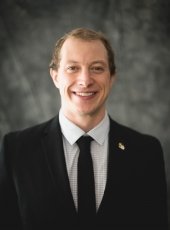 BS Exercise Science 2010
BS Biological Sciences 2010
Steve Short was born and raised in the Upper Peninsula of Michigan, and graduated from Kingsford High School in 2005. He graduated from Michigan Tech with a dual BS degree in Exercise Science and Biology (pre-professional) in 2010 and was a proud member of the MTU Football Team, quarterbacking the Huskies as a four-time captain. Steve went on to earn a doctorate in physical therapy (DPT) from the University of Dayton in 2014.
While at Dayton, Steve became interested in movement and injury research in elite sport. This focus led to an internship and clinical rotation with the Oklahoma City Thunder, in addition to professional opportunities with the Indiana Pacers, numerous collegiate athletic programs, and private-sector performance training of professional athletes. He received Dayton's DPT Student Achievement Award.
Upon completion of his studies at Dayton, Steve began practice at Back in Motion Physical Therapy, in Iron Mountain, MI, with fellow MTU graduate, Chris Moore. But it was not long before Steve accepted a position as the first full time physical therapist and assistant strength and conditioning coach for the NBA's Denver Nuggets. He spent the summer of 2016 as the lead Athletik Coach for the German National Basketball team en route to their qualification for EuroBasket 2017.
After three seasons, Steve moved into his current position as director of sports medicine for the Nuggets, and is responsible for the integration of evidence based health and performance services throughout the organization's high performance unit. Steve is a certified strength and conditioning specialist through the National Strength and Conditioning Association, and is board certified in Sports Physical Therapy through the American Board of Physical Therapy Specialties. He will sit for the completion of his post-graduate Orthopaedic Manual Physical Therapy Fellowship through the American Academy of Orthopaedic Manual Physical Therapists and Regis University later this spring.
Steve resides in the foothills of the Rocky Mountains with his amazing wife Gretchen, who is also a practicing doctor of physical therapy. He continues to receive inspiration from his family in the UP, including his parents, Dan and Mary Kay, both Copper Country natives, and his sister Sara, who is leading today's youth as an educator.
Excerpted from the 2018 College of Sciences and Arts Academy, Young Alumni Category, induction ceremony program.