Steven L. Misenheimer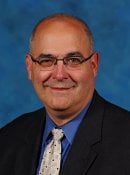 Steve Misenheimer received a B.S. in Computer Science with an Application specialty in Electrical Engineering in 1981. While focusing on his degree, Steve maintained a strong interest in the fine arts, especially the Jazz Lab Band and Pep Band.
During his college years and throughout his career, Steve believed that software engineering offers an incredibly flexible discipline that can be applied to any number of products and applications.
Following graduation, Steve worked for Honeywell in the area of aviation electronics on such products as Ring Laser Gyro Inertial Navigation systems and real-time image processing and recognition systems. In 1987, Steve joined Smiths Industries and led the development of products such as an integrated network of multiple computers for sonar processing, flight management systems, and control/display systems.
In 1992, Steve began working for Ascent Technologies, its sister company CriTech Research, and most recently their parent company Orion Systems. During this period, Steve has worked as Engineering Instructor, Development Engineer, Project Manager, Director of Engineering, and National Sales Manager. Applications range from automotive engine and transmission controls, IndyCar engine controls, brain tumor treatment systems, neo-natal database management, blood gas/chemistry instruments, bio-informatics, and molecular diagnostic products.
Steve has been involved with the Computer Science department in many activities and has been a promoter of Michigan Tech at high school events over the past several years.
From 2006 Induction to the College of Sciences and Arts Academy