Shaw Walker Sr.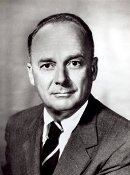 Shaw Walker graduated in 1937 from Yale. He is the retired chairman and CEO of Shaw-Walker Company, a former manufacturer of office equipment in Muskegon.
Shaw is presently honorary chairman and president of the Shaw-Walker Foundation. In the fall of 1982 Shaw Walker walked into former President Dale Stein's office and asked what he could do to help Michigan Tech. Dale responded that the university's most urgent need at that time was the development of its capability to afford a better education to its students in the arts and humanities. The rest is history.
Shaw Walker's 1.5 million dollar gift started a fund drive, supported by hundreds of loyal and enthusiastic Tech graduates and friends, and resulted in the dedication of the Arts and Humanities Center in August 1985. To celebrate the 10th anniversary of this building, of this very theater where we gather tonight, we could not think of a better person to be recognized as the first honorary member of our Academy. Shaw Walker's gift contributed significantly to the development of the arts and humanities and, therefore, to the growth and development of the College of Sciences and Arts. To bestow the award on Shaw Walker recognizes his pivotal role in making a Center for the Arts and Humanities possible.
From 1995 Induction to the College of Sciences and Arts Academy