Sarah E. Cowie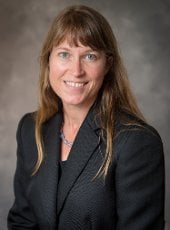 BS Industrial Archaeology 1996
Sarah Cowie graduated in 1996 with a MS in Industrial Archaeology from Michigan Tech's Department of Social Sciences. For several years she worked as a professional archaeologist in cultural resource management, and in 2008 earned her PhD in Anthropology from the University of Arizona. She is currently an Assistant Professor in the Department of Anthropology at University of Nevada-Reno, where she specializes in industrial and historical-period archaeology of the American West.
Her research and teaching interests include the archaeology of working communities such as mining towns, social theories of power relations, and collaborative archaeology with American Indian communities. Her first book, entitled The Plurality of Power: An Archaeology of Industrial Capitalism, is based on research conducted at Michigan Tech on the company town of Fayette, Michigan. She has also researched and published on topics such as historic Creek Indian farmsteads, heritage management practices in the US, and industrial archaeology of mines and grist mills. Currently, she is collaborating with American Indian stakeholders in publishing an edited book on the archaeology and heritage of Stewart Indian School in Carson City, Nevada.
Sarah's research trajectory continues to benefit from formative years in Tech's Industrial Archaeology program, which fosters innovative examination of technology, culture, history, economy and environment. In 2013 she won an early career award from the Society for Historical Archaeology, the world's largest organization dedicated to the archaeology of the modern world. In 2016 she received a Presidential Early Career Award for Scientists and Engineers (PECASE), which the White House describes as the "highest honor bestowed by the U.S. government on outstanding scientists and engineers beginning their independent careers."
Excerpted from the 2016 College of Sciences and Arts Academy, Young Alumni Category, induction ceremony program.