Robert Martin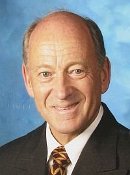 MS Biological Sciences 1976
Dr. Robert Martin joined the Centers for Disease Control and Prevention or CDC in 1999 as Director, Division of Laboratory Systems, PHPPO. His responsibility is to assure quality laboratory testing in the United States and to provide leadership in the development of laboratory systems and quality assurance programs in developing countries. Dr. Martin was formerly with the Michigan Department of Community Health since 1973 where he was the Laboratory Director since 1991.
Bob graduated from Michigan State University with a Bachelor of Science in Medical Technology in 1971, from Michigan Technological University with an M.S. in Biological Sciences in 1976, and the University of North Carolina with an MPH in 1977 and DrPH in 1979. He also served as Adjunct Associate Professor at Michigan State University where he taught undergraduate medical microbiology.
Bob has brought to the CDC valuable experience in bridging laboratory science and public health action. He has held a variety of leadership roles in professional organizations, such as President of the Michigan Public Health Association from 1992 to 1993, Laboratory Division Chair of the American Public Health Association in 1987, President of the Association of Public Health Laboratories from 1995 to 1996, and a public health committee member of the Public Health Division of the American Society for Microbiology (ASM). Bob is also the past chair of the Public Health Division (Division Y) of the ASM. He currently serves on the Board of Councilors of the American Society of Clinical Pathologists and is Executive Secretary to the Federal Advisory Committee - the Clinical Laboratory Improvement Advisory Committee.
Bob has also been active in many international projects, including World AIDS Foundation, Pan-American Health Organization, Centers for Disease Control and Prevention - Border (Mexico-US) TB Training Initiatives, CDC Global AIDS Programs in India, Ethiopia, Thailand, Cambodia and Zimbabwe, and World Bank CDC/Indian Ministry of Health collaboration on development of an integrated disease surveillance program.
In addition to his dedicated service to many professional societies, Bob is the author and co-author of 27 publications and has given numerous presentations. His outstanding contributions to the Public Health sector and to the Clinical Laboratory Sciences have been recognized earlier by Michigan State with the College of Natural Science Outstanding Alumni Award.
From 2003 Induction to the College of Sciences and Arts Academy