Robert Matheson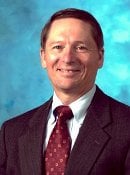 BS Chemistry 1973
Mathematics 1973
Dr. Matheson graduated from Michigan Tech in 1973 with a B.S. in Chemistry and a B.S. in Mathematics. He continued his studies at Cornell University in Ithaca, New York, and earned an M.S. in Chemistry in 1975 and a PhD in Biophysics in 1978 under Professor Scheraga's guidance. His graduate studies were followed by two years as a NIH Postdoctoral Fellow at Stanford University with Paul Flory. Dr. Matheson probably couldn't have chosen two better role models: Professor Scheraga is one of the foremost experts in the protein structure and modeling field, and Professor Flory was the leading scientist in the field of statistical thermodynamics of macromolecules who won the 1974 Nobel prize in Chemistry.
In 1980, Dr. Matheson began what turned into an outstanding and distinguished career at the Du Pont Corporation, rising from Research Chemist in 1980 to Technical Manager, Strategic Technology Automotive Products in 1991 to Technical Manager for Strategic Technology, Performance Coatings, in 1997.
In addition to his administrative and managerial duties at DuPont, Dr. Matheson kept close ties to the university research community with visiting appointments at the University of Montreal in Canada and at the Australian National University in Canberra. The University of California in Santa Barbara named him The Robert Merabiam Distinguished Lecturer in Materials in 1987. Since 1999, he is adjunct professor of Chemistry at Oakland University in Rochester Hills, Michigan. In spite of increasing administrative duties, he has published 40 papers in the field of biopolymers, macromolecules, and other polymeric materials. He holds a patent in coating composition containing silane functionality.
Dr. Matheson is a member of the American Chemical Society, a Fellow of the American Institute of Chemists, a member of the Scientific Committee for the International Conference in Organic Coatings, and since 1999, a CoEditor for the distinguished journal Progress in Polymer Science.
From 2002 Induction to the College of Sciences and Arts Academy