Richard A. Miller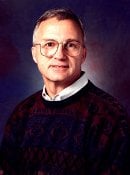 Dick Miller was one of the first Michigan Tech students to receive a B.A. degree in Liberal Arts in 1966. In 1970 he earned a masters degree in Industrial Administration.
Mr. Miller pursued a distinguished business career with General Electric, serving as system analyst and later as manager of various divisions. He is currently General Manager of Quality and Compliance.
Mr. Miller has strong ties to Michigan Tech. He is GE's on-campus recruiting coordinator, a member of the President's Club and a Trustee on the Michigan Tech Fund Board, serving as its secretary since 1996.
From 1997 Induction to the College of Sciences and Arts Academy