Richard Faleschini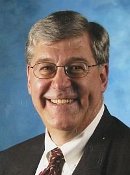 MS Biological Sciences 1970
Physiology 1972
Richard Faleschini is Vice President and General Manager for American Medical Systems Gynecology (AMSG), a newly formed business unit of American Medical Systems. Rick joined American Medical Systems in November, 1999, as Vice President of Marketing and Sales and served in that position until he assumed his current role in 2003.
Rick has 30 years of experience in medical device sales, marketing, and general management. From July 1995 to August 1999, he served in various executive positions at Medtronic, Inc. in Minneapolis with responsibilities for several sectors of its cardiovascular businesses, including coronary stents, most recently as Vice President, U.S. Cardiovascular Health Care Systems Marketing. His previous experience also includes senior sales and marketing management responsibilities at Cordis Corporation from 1990 to 1995 in Miami Lakes, Florida, at Biomagnetic Technologies from 1985 to 1990 in San Diego, California, and at Advanced Technology Laboratories and ADR Ultrasound from 1977 to 1985 in Washington State and in Phoenix, Arizona, respectively. He helped both American Medical Systems and Biomagnetic Technologies go public.
Rick's impressive management and marketing skills became apparent when he served on the College of Sciences and Arts Advisory Board from 1995 to 1999. Rick, hosting the Board at the conference facilities of Medtronic, provided a great setting for a highly productive meeting. This meeting, the letter which was written to President Tompkins and the Board of Trustees, and an eloquent presentation which Rick gave to the joint advisory boards and which showed his commitment, candor, and compassion for Tech were influential in preparing and developing a new strategic plan and marketing as a key element for Tech's success in the future.
Rick earned a Bachelor's degree in Biological Sciences and an M.S. in Physiology from Michigan Tech in 1970 and 1972, respectively. While a Student at Michigan Tech, Rick had a number of summer jobs that included being a Clinical Laboratory Technologist at St. Joseph's Hospital, an ambulance driver for Mercy Ambulance in Hancock and being on-call for the Houghton County Medical Examiners Office.
From 2003 Induction to the College of Sciences and Arts Academy