Paul D. Pietila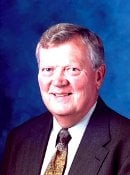 Paul Pietila graduated from Michigan Tech with a BS degree in Applied Physics in 1962. He earned an MBA degree in 1972 from Bowling Green State University.
His distinguished business career included five years with General Motors followed by 30 years at Ford. The first half of his career was spent in the areas of quality and reliability—the second part in manufacturing and general management. His responsibilities included managing plants in Basildon, England (where he was one of the first Americans to manage a European plant) and also in Plymouth, Mich.
He ended his career as chief operating officer of Toledo Molding and Die, a Ford joint venture. Pietila was a charter member of the College of Sciences and Arts and served as its first chair in 1995.
Excerpted from the 1998 College of Sciences and Arts Academy induction ceremony program.