Marvin D. Shepherd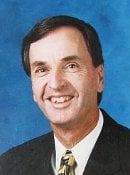 BS Biological Sciences 1969
Dr. Shepherd earned his B.S. in Biology in 1969 from Michigan Tech followed by a B.S. in Pharmacy from Ferris State University in 1975, a M.S. from the University of Rhode Island in 1978, and a Ph.D. from Purdue University in 1980.
Currently, he is Professor and Chairman of the Pharmacy Practice and Administration Division and Director of the Center for Pharmacoeconomic Studies of the College of Pharmacy at the University of Texas.
His major research areas of interest are pharmacy management issues, prescription drug distribution systems, pharmacy services, pharmacoeconomics, pharmaceutical marketing, use of generic pharmaceutical products, the use of prescription medications and pharmacy services by the elderly, and Mexican drugs coming into the U.S.
He is an active public speaker, has over 70 publications, and has written six book chapters.
From 1998 Induction to the College of Sciences and Arts Academy