Marek Urban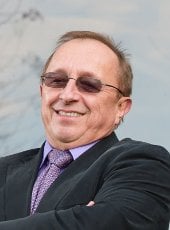 Dr. Urban received his BS degree in 1979 in material science and chemistry from AGH University of Science and Technology in Cracow, Poland. He earned his PhD degree in chemistry with Professor Bahne Cornilsen in 1984, after joining the Chemistry Department of Michigan Tech with a master's degree in chemistry from Marquette University in 1981.
Since 1986, after spending two years as Research Associate in the Macromolecular Science Department at Case Western Reserve University, Dr. Urban had a most distinguished academic career at North Dakota State University in Fargo, ND, rising to the rank of Professor in Polymers and Coatings in 1995. Today he is the Sirrine Foundation Endowed Chair and Professor of Materials Science and Engineering at Clemson University. Prior to joining Clemson University in 2013, he was a professor of polymer science at USM, where he directed the Materials Research Science and Engineering (MRSEC) as well as Industry/University Cooperative Research (I/U CRC) Centers funded by the National Science Foundation.
Dr. Urban is the author of over 380 research publications and patents, numerous book chapters and monographs, author of four books (Wiley, Royal Society of Chemistry, and Oxford University Press) and editor of seven American Chemical Society Advances in Chemistry Series as well as Wiley Handbook on Stimuli-Responsive Materials. In 2003, Dr. Marek chaired Gordon Research Conference in Polymeric Coatings and is the founder and chair of the International Symposium on Stimuli-Responsive Materials. He a Fellow of the American Chemical Society, Division of Polymeric Materials Science and Engineering and serves on editorial boards of several scientific journals. His research on antimicrobial polymers, stimuli-responsive, and self-healing polymers has been featured by numerous media, including NY Times, Forbes, BBC, NBC, Discovery, USA Today, Yahoo, and many TV and radio stations around the World. Current research efforts focus on understanding molecular level processes governing responsiveness in materials, development of novel polymeric nanomaterials with "living-like" functions, and the design of self-repairing materials that utilize natural sources of energy. For further info please visit his website.
Updated March 15, 2017, by Dr. Urban
Inducted into the College of Sciences and Arts Academy in 2000