Leonard C. Buckman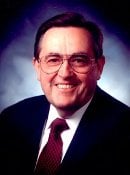 BS Engineering Physics 1960
Leonard C. Buckman is president and general manager for Rockwell WABCO Vehicle Control Systems, a joint venture between Rockwell Automotive and American Standard Inc.'s Automotive Product Group. He has held this position since July 1992.
Len joined Rockwell in 1977. He lead a highly successful career as chief engineer, director of engineering and product planning, and as vice president of engineering and sales.
A veteran of international technical and business negotiations in Europe, the Far East and South America, Len has led Rockwell's establishment of joint venture companies in Japan and Brazil.
Before joining Rockwell, Len held various engineering and management positions with General Motors Corporation and Ford Motor Company.
Len earned a bachelor's degree in Engineering Physics in 1960 from Michigan Tech. He pursued graduate studies at the University of Michigan and Wayne State. He is a member of the Society of Automotive Engineers, was a founding member of the Heavy Duty Brake Manufacturers Council, and he is on the President's National Advisory Board for Michigan Tech.
In 1990 he was recognized for his outstanding accomplishments with the MTU Board of Trustees Silver Medal Achievement Award.
Excerpted from the 1995 College of Sciences and Arts Academy induction ceremony program.