John H. Christianson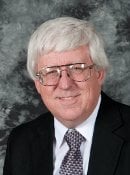 Born in Green Bay, Wisconsin, John Christianson grew up blocks from Lambeau Field during the Lombardi Glory Years which instilled in him a love of sports and competition. He graduated from Green Bay Southwest High School with high honors, while playing on the tennis team, participating in newspaper and forensics, and tutoring his classmates in chemistry, physics and calculus, foreshadowing his eventual career choice.
Upon graduation in 1971, John enrolled at Michigan Technological University to pursue a degree in chemical engineering, but switched majors to chemistry with secondary education certification in the then relatively new Michigan Tech Teacher Education Program. He played four years on the varsity tennis team and was named team and conference MVP as a senior while student teaching at Houghton High School. John graduated with high honors from Michigan Tech in 1975 with a BS in Chemistry and teacher certification in chemistry and mathematics.
After filling a temporary opening at Houghton High School, John went to Dollar Bay High School where he taught chemistry, physical science, geometry, calculus and computer programming. From 1981-1987, he served as varsity men's and women's tennis coach at Michigan Tech. In 1983, he returned to Houghton High School as the Science Department Head and taught chemistry and physics. He continues to teach chemistry and AP chemistry while coaching the girl's varsity volleyball team that he started in 1991. Since 1999, John has served on the College Board Advanced Placement Chemistry Program as an exam reader, Midwestern Regional Consultant and exam table leader.
John has been recognized with Michigan Tech's Excellence in Teaching Award in 1986, the White House Commission on Presidential Scholars Distinguished Teacher Award in 1988, the American Chemical Society Section Distinguished Teacher Award in 1993, Houghton-Portage Schools Outstanding Education Employee Award in 2006. He was named UP Class C Volleyball Coach of the Year in 1998 and 1999. John was inducted into the Michigan Tech's Sports Hall of Fame in 2004 and Academy of Educators in 2005. He has supervised numerous Michigan Tech student teachers since 1979 and has served on the Michigan Tech Teacher Education Advisory Council.
From 2011 Induction to the College of Sciences and Arts Academy