Jeffrey Jentzen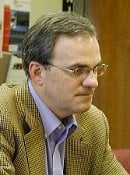 BS Biological Sciences 1975
A resident of Ypsilanti, Michigan and graduate of Ypsilanti High School, Dr. Jentzen is a 1975 graduate of Michigan Technological University. He received a B.S. degree in biological sciences. While at Tech he also played varsity football and competed in wrestling. He was the 1971 Outstanding Freshman Athlete.
After attending Michigan Tech, he began his medical career attending the Autonomous University of Guadalajara in Mexico from 1975-77. In 1977 he attended Wayne State University School of Medicine in Detroit, Michigan. Following an internship at the University of Michigan, he completed a four-year residency in pathology at the Hennepin County Medical Center in Minneapolis and a one-year fellowship in forensic pathology at the Medical Examiner's Office in Minneapolis under the direction of Drs. Garry Peterson and John I. Coe.
Dr. Jentzen has been the Milwaukee County Medical Examiner in Milwaukee, Wisconsin since 1987. He is active in the National Association of Medical Examiners. Dr. Jentzen is active in numerous national, state, and local professional organizations relating to forensic pathology, and toxicology. He has developed a specialized training program in forensic death investigation.
Dr. Jentzen has academic appointments in the pathology departments at the Medical College of Wisconsin and provides fellowship-training programs in forensic pathology and forensic toxicology. He has an appointment as clinical professor in the College of Health Sciences at the University of Wisconsin-Milwaukee. Dr. Jentzen's areas of special interest include the investigation of childhood deaths, pharmacogenetics and the molecular autopsy. Jentzen has been active in promoting consistency in death investigation, training and national standards for forensic pathology. Of particular interest, Dr. Jensen has published on a number of pediatric topics including: shaken impact syndrome, co-sleeping, viral surveillance, and retinal hemorrhages. He created a child death review team for Milwaukee County in 1990 and was instrumental in establishing a state team.
Prior to today's induction into the Academy of Sciences and Arts, Dr. Jentzen has been recognized previously with Michigan Tech's Outstanding Young Alumnus Award in 1988, with the June M. Dobbs Award for Outstanding contributions for the Welfare of Children in 1996, with the Outstanding Service Award from the National Association of Medical Examiners in 2001, and with the Outstanding Service Award from the American Board of Medicolegal Death Investigators in 2002.
From 2005 Induction to the College of Sciences and Arts Academy