James Voogt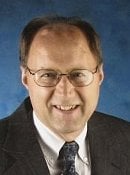 BS Biological Sciences 1966
Dr. James Voogt received his B.S. in Biological Sciences from Michigan Tech in 1966. He earned a Master's degree in 1968 and a Ph.D. in 1970 from Michigan State in Physiology.
In 1971, after a post-doctoral year at the Department of Physiology at the University of California in San Francisco, he started his academic career as Assistant Professor in the Department of Physiology and Biophysics at the University of Louisville School of Medicine. After his promotion to Associate Professor in 1977, he joined the Department of Physiology at the University of Kansas School of Medicine where he is full professor since 1982. He has served as Associate Dean for Research and, since 1993, he is Chairman of the Department of Physiology at the University of Kansas Medical Center.
His major research area is reproductive neuroendocrinology with special emphasis on the regulation of dopaminergic neurons in the hypothalamus. Studies are done at the molecular, cellular, and integrative levels related to development, reproductive states, and aging. Support for his research from the National Science Foundation and the National Institutes of Health has exceeded 2.6 million dollars.
Dr. Voogt is a member of many professional societies, including charter member of the International Society of Neuroendocrinology. He served on the editorial board of Endocrinology and the American Journal of Physiology and is a reviewer for the major journals and granting agencies in his field. Dr. Voogt, an author of more than 90 research publications and book chapters, has been an invited speaker at universities, conferences and medical centers in the USA, Europe, and Japan. A sabbatical year as Visiting Professor at the Erasmus University in the Netherlands attests to his international recognition.
It is only fitting that 26 years, after Michigan Tech recognized Dr. Voogt with the Outstanding Young Alumni Award of 1974, we honor him tonight with the induction into our academy.
From 2000 Induction to the College of Sciences and Arts Academy