Frederick C. Guenther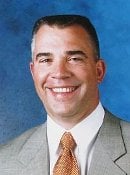 BS Biological Sciences 1975
Dr. Guenther received his B.S. in Biology from Michigan Tech in 1975. He went to medical school at Wayne State University (M.D., 1979). From 1979 to 1983 he spent his residency in obstetrics and gynecology at the Oakwood Hospital in Dearborn.
Since 1983 Dr. Guenther is in private practice in Big Rapids. He also is a member of the medical staff of the Mecosta County General Hospital where he served as Chief of OB-GYN from 1986 to 1991 and as Chief of Medical Staff from 1989 to 1991. Dr. Guenther is President, Obstetrics & Gynecology of Big Rapids.
His Professional Society Memberships include: The American Medical Association, The American College of Obstetrics and Gynecology and the Michigan State Medical Society. He is a member of the Michigan Tech Fund Board of Trustees. Until now, Dr. Guenther helped some 6000 babies into this world.
From 1998 Induction to the College of Sciences and Arts Academy