Dianne M. Marsh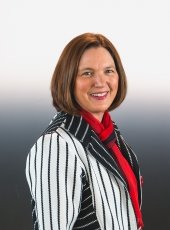 BS Computer Science 1986
MS Computer Science 1992
Dianne Marsh earned a BS in Computer Science at Michigan Tech in 1986 and started her career in 1987 as a software engineer for LECO Corp. and then worked for various automotive software suppliers before returning to Tech to earn her MS in Computer Science in 1992. Upon completion she joined a startup, Computational Biosciences, in Ann Arbor, where she put her distributed systems expertise to work. In 2000, she co-founded SRT Solutions, focusing on custom software to help clients, including start-ups and Fortune 100 companies, deliver products using current technologies. She led that company for 13 years and was an organizer for CodeMash, a software development conference in Sandusky, OH. From 2007-2012 her firm was awarded the Ann Arbor Business Review Fast Track Award. It was also named to the Michigan 50 Companies to Watch in 2011, and to the INC 5000 Fastest Growing Companies in 2012. She and her family moved to California in 2013, when she joined Netflix as the Director of Engineering for Engineering Tools. She served in that role for five years. Dianne is currently the Director of Device and Content Security at Netflix. Her team ensures that Netflix customers have a great user experience while protecting the IP rights of Netflix's studio partners.
While in Michigan, she was active in several professional software community groups, including Ann Arbor SPARK, the Ann Arbor Java User Group and the Michigan Python User Group. Dianne was president of the Ann Arbor Computer Society from 2002 to 2004 and served on the board of the Ann Arbor Hands on Museum. Since joining Netflix, she has spoken at many conferences, including OSCON, Strange Loop, We RISE Atlanta, QCon, and JavaOne.
Dianne co-authored a book, Atomic Scala, with Bruce Eckel, targeted at beginning Scala developers.
As a Tech student she joined the Society of Women Engineers, and as a graduate student organized a student-led instruction and study group, for which she earned an Outstanding Graduate Student Award. She remains involved as a volunteer mentor for first-year computer science students and for Summer Youth's Women in Computing Program. Dianne has participated in the Michigan Celebration of Women in Computing as well as the Grace Hopper Conference. In recognition of her significant career accomplishments she was inducted into Michigan Tech's Presidential Council of Alumnae in 2008.
She and her husband, Tom, live in San Jose, California, with their two children, Julianna and Benjamin.