David J. Pruett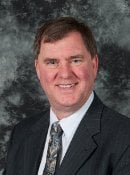 MS Chemistry 1975
BS Chemistry 1974
David J Pruett, from Pontiac, Michigan, earned a BS (1974) and MS (1975) in Chemistry at Michigan Technological University and a PhD (1978) at Michigan State University. While at Michigan Tech, Dave studied experimental anti-malarial drugs, lanthanide complexation chemistry and a non-sulfur wood pulping process. He also took "Chem Magic" shows to Keweenaw high schools. Once he demonstrated an oscillating reaction that usually began within seconds, but this time took 10 minutes because the chemicals had been stored overnight in a cold car trunk!
Dave's professional career began at Oak Ridge National Laboratory, where he spent almost 15 years working on the lanthanide and actinide chemistry of the nuclear fuel cycle, coal liquefaction, and the environmental clean-up of the Manhattan Project. In 1996, Dave joined QualPro, a management and quality improvement consulting firm in Knoxville, where he gained a lifetime of experience in chemical industry processes. Five years later, Dave became Vice President of Sourcing, Manufacturing and Logistics with the North American business unit of the Norwegian explosives company, Dyno Nobel. He gained business experience in Europe, South America and the Asia-Pacific region while tending to manufacturing and R&D in North America. When Dyno Nobel merged with Ensign Bickford, a multi-national producer of explosive accessories, Dave assumed responsibility for the merger and completed the process six months sooner than expected with substantially greater synergies than budgeted. In 2005, CF Industries recruited Dave as Senior Vice President, Operations; he guided the company through an IPO while maintaining a tradition of process improvement and ever-improving safety records.
Since leaving CF in 2009 for semi-retirement, Dave has maintained a small consulting business and learned new skills, such as competitive ballroom dancing. He pursues life-long passions for photography, food, and wine and travels the world with his amazing wife, Valeria. A member of the American Chemical Society since his days at Tech, Dave served in numerous capacities within the Division of Nuclear Chemistry and Technology and the Division of Industrial and Engineering Chemistry. He is a former editor of Radiochimica Acta and a Chevalier of the Ducal Order of the Cross of Burgundy.
From 2011 Induction to the College of Sciences and Arts Academy