Carol A. Kolinsky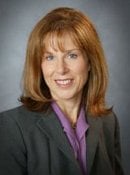 BS Biological Sciences 1974
Dr. Carol A. Kolinsky graduated from Michigan Technological University in 1974 with a BS in Medical Technology. Carol was employed for six years as a medical technologist before returning to school to earn her medical degree from Michigan State University, graduating in 1984. She completed a one-year rotating internship at the William Beaumont Hospital in Royal Oak, MI and completed two years of family practice in Tiptonville, TN to pay back her government sponsored Health Corp loans for medical school. She returned to William Beaumont Hospital and completed an ophthalmology residency. In June of 1990, Dr. Kolinsky opened her private practice in Escanaba and soon after the practice started, she formed U.P. Ophthalmology as a professional corporation in practice with Dr. Darrell Kohli.
She is an active member of the American Academy of Ophthalmology, Michigan State Medical Society, Delta County Medical Society, and Michigan Ophthalmologic Society. She has been chairman of the Department of Surgery at St. Francis Hospital in Escanaba twice and also has served as Chief of Staff.
Dr. Kolinsky resides in Escanaba with her husband Tom. She has two grown children of whom she is very proud.
From 2014 Induction to the College of Sciences and Arts Academy