Nurture your curiosity with some of the brightest minds in the field. Many research-intensive opportunities exist in the Michigan Tech Department of Physics to prepare your mind. Graduate students can customize their degree with the applied physics option or choose the pure physics focus. Those interested in the atmosphere can choose to create an interdisciplinary study.
In addition to our graduate degree program, the Department of Physics offers graduate certificates for those who wish to earn academic credentials with about nine coursework credits per certificate. Current graduate students can earn these credentials simultaneously with their graduate degrees.
Michigan Tech undergraduates can complete their Master's Degree alongside their Bachelor's in only one additional year by taking advantage of the Accelerated Master's Program.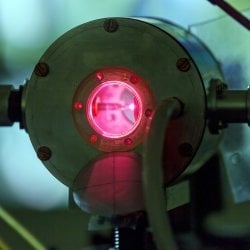 Explore new functional nanomaterials. As the most flexible yet specialized program of study, students design a degree tailored to their interests in an interdisciplinary research area: atmospheric science, nanoscale physics, materials science, condensed matter, biomedical science, photonics, or optoelectronics.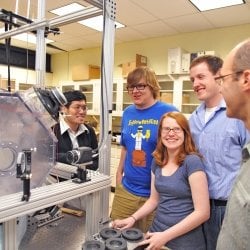 Investigate the properties of molecules in electrical discharges. In the physics program of study, graduate students work side-by-side with research faculty to innovate in areas such as atomic and molecular laser spectroscopy, gamma-ray emission and bursts, single-electron transport devices, the dielectric response of molecules under external electrostatic fields, molecular electronics devices, and more.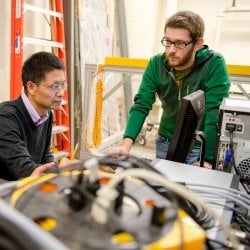 Discover the role turbulence plays in cloud formation. In the atmospheric sciences program, students can choose to study under one or more of the program's 12 faculty in five departments across campus. Current research areas of focus include atmospheric interactions with other parts of the Earth's system, the physics and chemistry of the atmosphere, and climate change.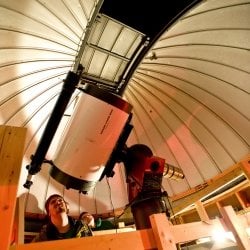 Prepare yourself to explore future science and technology with our interdisciplinary graduate certificate program. These certificates allow students to learn beyond their graduate research, with four specific themes on Advanced Computational Physics, Frontiers in Optics and Photonics, Big Data Statistics in Astrophysics, and Frontiers in Materials Physics.
Ever wonder what it would look like to travel to a black hole? Due to strong gravity, light paths significantly alter and conditions would indeed look strange—the whole sky would be visible as stars behind the black hole would have their light bent and the sky would appear distorted. This video is a scientifically-accurate animation of what it would look like to orbit a black hole from a distance. By Robert Nemiroff, professor of physics at Michigan Tech.
Coming to Michigan Tech from all over the country and beyond, students in the Physics Department are a diverse group. Their research interests are equally diverse, revealed in the abstracts of their theses and dissertations. Whether it is investigating heterogeneous ice nucleation in supercooled droplets resting on cold substrates under two different dynamic conditions or tracking reduction of transmission loss in optical fibers our graduate students innovate and join other physicists in becoming top researchers in their fields.
Graduate Researcher Highlight
Doug Banyai, 2015, Physics PhD
"Several new transistor designs, some designed and built here at Michigan Tech, involve electrons tunneling their way through arrays of nanoparticles. We used a multi-scale approach to model these devices and study their behavior. For investigating the tunneling characteristics of the individual junctions, we used a first-principles approach to model conduction between sub-nanometer gold particles."
Matt Beals, 2015, Atmospheric Science PhD
"Holographic data recorded during two different field projects is analyzed to study the mixing structure of cumulus clouds. Using HOLODEC data, it is shown that mixing at cloud top can produce regions of clear but humid air that can subside down along the edge of the cloud as a narrow shell, or advect down shear as a 'humid halo'."
Boyi Hao, 2015, Engineering Physics PhD
"Boron nitride nanotubes (BNNTs) have been well known for their structural similarity to carbon nanotubes (CNTs), as well as for their superior mechanical properties. However, BNNTs are wide band gap semiconductors (band gap ~6eV), this hinders their applications in electronic devices. In this dissertation, different methodologies to functionalize the insulating BNNTs have been demonstrated and discussed, including metallic quantum dots (QDs-BNNTs), graphene (graphene-BNNTs), CNTs (CNT-BNNT)."
Jie Li, 2016, Experimental Physics PhD
"Five hot-deformed magnets were manufactured at different temperatures (680°C, 750°C, 800°C, 850°C, 900°C) to analyze the effect of hot-deformation parameters on the microstructural and magnetic properties of magnets. The results show that the grain size increases and the stress decreases with an increase in hot-deformation temperature when the strain rate is kept constant."
Noopur Sharma, 2015, Atmospheric Science PhD
"In this study we discussed the evolution of the mixing state of soot in a biogenically influenced environment. Analysis of samples collected during CARES, revealed that in a biogenically influenced environment, observed soot particles were internally (coated or partially encapsulated) as well as externally mixed."
Admissions
Applications are reviewed on an individual basis using a holistic approach. Specific requirements for the applied physics and physics programs include:
Statement of purpose
GRE: Not required due to COVID-19.
3 letters of recommendation
Undergraduate GPA of 3.0 or better on a 4.0 scale
TOEFL of 88 or IELTS of 6.5 (for international students who graduated from a program with a teaching language other than English)
Additional requirements for the Atmospheric Science Program include:
Bachelor's or Master's degree in the physical sciences or engineering
Mathematics through ordinary differential equations
Contacts