Research plays an integral role in the culture of the physics department. Our faculty are involved in cutting-edge research in four main areas. From modeling cloud formation and behavior in turbulent upper-level atmospheric conditions, to detecting diseases through laser analysis of breath samples; both undergraduate and graduate students have many opportunities to contribute to exciting research projects.
Physics of Cloud Mixing
Watch The Physics of Cloud Mixing video
The cloud chamber at Michigan Tech is the only one in the world that can sustain a cloud for longer than slightly over 10 minutes. We could keep a cloud inside the boxy interior going for a day or more–here's how.
Research Institutes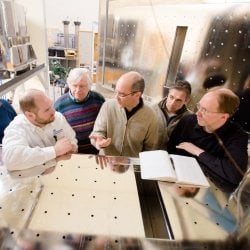 The Earth, Planetary, and Space Sciences Institute or EPSSI at Michigan Technological University promotes interdisciplinary research and education that spans the Earth, its ecosystems, and intergalactic space. Through EPSSI, students pursue the PhD program in atmospheric sciences led by 33 faculty across eight departments. Atmospheric science researchers don't cross their fingers for cooperative weather—the University's innovative cloud chamber allows them to head into the lab and make their own.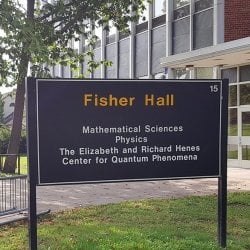 The Elizabeth and Richard Henes Center for Quantum Phenomena or CQP, is about people, not places and buildings. It is where scientific dreams become reality–from the desire to understand the fate of the universe to using quantum physics to improve human health. From describing atoms and subatomic particles in terms of discrete minuscule energy levels to defining the universe with the most precise models in history–the CQP brings the University's academic community together to innovate and respond to unusual abilities, qualities, and processes that cannot be explained by means of classical physics.
Machine Shop
To attract and assist outstanding experimentalists and hands-on undergraduate and graduate students, the physics department maintains a dedicated machine shop to support the research and teaching activities of the department. Equipped with manual lathes, manual, and CNC Mills, horizontal and vertical band saws and drill presses, along with various other metal and woodworking machine and hand tools, the machine shop is also available for use by other departments on the Michigan Tech campus.
Contact
Jesse Nordeng
Master Machinist, Physics