Yoke Khin Yap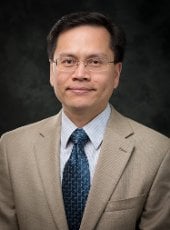 Contact
906-487-2900
Office: Fisher 219, Labs: Fisher B013/009/031/034
Professor, Physics
Director, Applied Physics Program
Osaka University Global Alumni Fellow
Biography
Professor Yap is interested in the fundamentals of synthesis, properties, and applications of functional materials, which include B-C-N nanostructures (carbon nanotubes, graphene, boron nitride nanotubes, boron nitride nanosheets, boron carbon-nitride and carbon nitride nanostructures, etc.); 2D materials beyond graphene; ZnO nanostructures; energy harvesting nanosystem; and quantum dots. He has edited multiple books, MRS proceedings volumes, and journal special issues, as well as publishing a series of book and encyclopedia chapters, and more than 100 journal articles.
Links of Interest
Teaching Interests
Solid-State Physics
Optics
Nanoscale Science and Engineering (Nanotechnology)
Electromagnetism
Research Interests
Controlled synthesis of 0D, 1D, and 2D materials (Nanotubes, 2D layered materials, Nanowires, Quantum Dots, and their heterostructures, etc.).
Exploration of new functional nanomaterials, heterojunctions, heterostructures, nano-hybrids, and nano-systems.
Creative use of nanomaterials and nano-systems for advanced electronics, quantum switching, energy harvesting, environmental, chemical and biomedical applications.
Publications
(Review) Mingxiao Ye, Dongyan Zhang, Yoke Khin Yap, "Recent Advances in Electronic and Optoelectronic Devices Based on Two-Dimensional Transition Metal Dichalcogenides," Electronics 6, 43 (2017). Read More
(Review) Chee Huei Lee, Bishnu Tiwari, Dongyan Zhang, Yoke Khin Yap, "Water purification: oil–water separation by nanotechnology and environmental concerns," Environmental Science: Nano 4, 514-525 (2017). Read More
(Review) Chee Huei Lee, Shiva Bhandari, Bishnu Tiwari, Nazmiye Yapici, Dongyan Zhang, Yoke Khin Yap, "Boron Nitride Nanotubes: Recent Advances in Their Synthesis, Functionalization, and Applications," Molecules 21, 922 (2016) Read More
Yoke Khin Yap and Dongyan Zhang "Chemical Vapor Deposition," in Encyclopedia of Nanotechnology, B. Bhushan (ed.) Continuously updated edition, pp 1-7 (Springer 2016, ISBN: 978-94-007-6178-0).
Yoke Khin Yap and Dongyan Zhang "Physical Vapor Deposition," in Encyclopedia of Nanotechnology, B. Bhushan (ed.) Continuously updated edition, pp 1-8 (Springer 2016, ISBN: 978-94-007-6178-0). Read More
(Review) S. Bhandari, B. Tiwari, N. Yapici, D. Zhang, Y. K. Yap, "Introduction to Boron Nitride Nanotubes: Synthesis, Properties, Functionalization, and Cutting," Chapter 1 in Boron Nitride Nanotubes in Nanomedicine, Ed G. Ciofani and V. Mattoli (Elsevier, 2016, ISBN: 978-0-323-38945-7) Read More
A. Balram, S. Santhanagopalan, B. Hao, Y. K. Yap, D. D. Meng, "Electrophoretically-Deposited Metal-Decorated CNT Nanoforests with High Thermal/Electric Conductivity and Wettability Tunable from Hydrophilic to Superhydrophobic," Advanced Functional Materials 26, 2571-2579 (2016). Read More
(Review) B. Hao, C. H. Lee, J. Wang, A. Asthana, D. Winslow, D. Zhang, and Y. K. Yap, "Controlled Synthesis of Functional Boron Nitride Nanostructures for Applications," Chapter 20 in Nanotubes and Nanosheets: Functionalization and Applications of Boron Nitride and Other Nanomaterials, (CRC Press) Ed. Ying (Ian) Chen, pp 551-572 (2015). Read More
Ajay Kumar, Pin Ann Lin, Albert Xue, Boyi Hao, Yoke Khin Yap, R. Mohan Sankaran, "Formation of nanodiamonds at near-ambient conditions via microplasma dissociation of ethanol vapour" Nature Communications 4, Article number:2618 (2013) Read More
Chee Huei Lee , Shengyong Qin , Madhusudan A. Savaikar , Jiesheng Wang , Boyi Hao , Dongyan Zhang , Douglas Banyai , John A. Jaszczak , Kendal W. Clark , Juan-Carlos Idrobo , An-Ping Li , and Yoke Khin Yap, "Room-Temperature Tunneling Behavior of Boron Nitride Nanotubes Functionalized with Gold Quantum Dots," Advanced Materials 25, 2544 (2013) Read More
Archana Pandey, Abhishek Prasad, Jason P. Moscatello, Mark Engelhard, Chongmin Wang, Yoke Khin Yap, "Very Stable Electron Field Emission from Strontium Titanate Coated Carbon Nanotube Matrices with Low Emission Thresholds," ACS Nano 7, 117 (2013). Read More
Yoke Khin Yap (Editor), "Carbon Nanotubes, Graphene and Related Nanostructures," Mater. Res. Soc. Symp. Proc. Volume 1407 (Cambridge University Press, July 2012, ISBN: 978-1-60511-384-5) Read More
Archana Pandey, Abhishek Prasad, Jason Moscatello, Yoke Khin Yap, "Stable Electron Field Emission from PMMA-CNT Matrices," ACS Nano 4, 6760 (2010). Read More
Yoke Khin Yap (Editor), "Nanotubes and Related Nanostructures-2009," Mater. Res. Soc. Symp. Proc. Volume 1204 (Cambridge University Press, 2010, ISBN: 978-1-60511-177-3) Read More
Yoke Khin Yap (Editor), "B-C-N Nanotubes and Related Nanostructures," Lecture Notes in Nanoscale Science and Technology (Springer) Vol. 6 (2009) Approx. 310 pages, 159 illustrations, 32 in color, Hardcover. Read More
Abhishek Prasad, Samuel Mensah, Zheng Wei Pan, and Yoke Khin Yap, "Alternative Nanostructured Sensors: Nanowires, Nanobelts, and Novel Nanostructures," in Chapter 4 of Sensors Based on Nanostructured Materials, Francisco J. Arregui (Ed.), Springer, pp. 59-78 (2009). Read More
Yoke Khin Yap (Editor), "Nanotubes and Related Nanostructures," Mater. Res. Soc. Symp. Proc. Volume 1057 (Cambridge University Press 2008). Read More
J. Wang, V. Kayastha, Y. K. Yap, Z. Fan, J. G. Lu, Z. Pan, I. Ivanov, A. A. Purezky, D. B. Geohegan, "Low temperature growth of boron nitride nanotubes on substrates," Nano Letters.5, 2528 (2005). Read More