Prepare yourself for a career in academia, industry, or research and development with an MS or PhD in physics from Michigan Tech. We are seeking highly motivated, inquisitive students with undergraduate majors in physics, materials science, mathematics, or engineering, who possess a strong interest in research.
Beyond Michigan Tech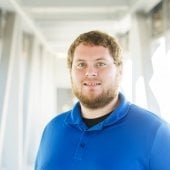 Tyler Capek, 2018, Physics PhD
Awarded a research fellowship funded by the Department of Energy's (DOE) Office of Science Graduate Student Research (SCGSR) Program.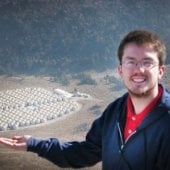 Opportunities for Original Research
The National Science Foundation ranks the Department of Physics at Michigan Tech in the top 25 percent of PhD expenditures nationally. Current projects being conducted in the department include:
Chemical and biological sensors
Gamma-ray observations
Nonlinear Raman Spectroscopy
Parity-time symmetry in optics
Theory and modeling of single-electron transport devices
Nonreciprocal phenomena
Instrument development and environmental optics
Dielectric response of molecules under external electrostatic fields
Modeling molecular electronic devices
Modeling of materials
Time-resolved laser spectroscopy and nanofabrications
Controlled synthesis of 0-D, 1-D, and 2-D materials
Cloud physics
State-Of-The-Art Laboratory Facilities
The physics department boasts exceptional research labs and facilities. A recent $2.5 million renovation provided major upgrades in physics classroom technology, and a new $700,000 gift is enabling a major upgrade to physics research facilities. Physics hosts seven labs, ranging from computer labs with state-of-the-art software packages to atomic and molecular laser spectroscopy labs. Researchers also have access to other departments' research labs, including scanning electron microscopy labs and other advanced characterization and fabrication facilities.
PhD Versus MS
The PhD program (regarded as the terminal degree within the field) consists of substantial graduate-level coursework combined with original research leading to significant contributions to the field of physics through publications in peer-reviewed journals. An MS in physics may be obtained while in pursuit of the PhD.
Both the MS and PhD programs build on a foundational set of six core courses plus additional electives. Well-prepared students will need a minimum of 12 months to complete their MS degree requirements while PhD students typically spend five years.
Degree Requirements
Credit requirements, degree options, time limits, examinations, and other requirements vary by degree:
Qualifying Exam
Students accepted into the Physics PhD program must take a written Qualifying (Comprehensive) Examination. The exam will be authored and administered by the physics department's qualifying exam committee and will cover four areas:
Classical mechanics (including introductory special relativity)
Electricity and magnetism
Quantum mechanics
General physics
Core Courses
Certain courses are considered foundational for all students seeking MS or PhD degrees in physics, irrespective of intended research specialty. The following required courses have been selected to provide a general physics education to act as a foundation for future study and a career in physics:
Electives
In addition to core courses, at least two of the following courses are required for students seeking MS or PhD degrees in physics:
Careers in Physics
Graduates with an advanced degree in physics work in academia, industry, and at government laboratories. Past students and their employers include:
Jiang Lu, artificial intelligence/deep learning expert at FutureWei Technology in Seattle, WA
Michael Larsen, associate professor of physics at the College of Charleston in Charleston, SC
Teresa Wilson, research scientist at the United States Naval Observatory, Washington DC.