Franklin M. St. John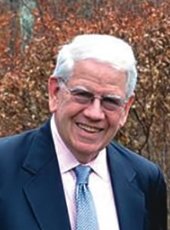 BS Metallurgical and Materials Engineering 1960
Honorary PhD Engineering 1999
Dr. Franklin M. St. John. (BS MTU MY 1960, HON PhD MTU 1999). Dr. Franklin St. John is a successful entrepreneur who founded two companies: Jensen Industries, a precious metal manufacturer and later, and HerbaSway Laboratories, a manufacturer of botanical extracts, herbal formulas, and tea. The latter venture occurred after his formal retirement as a metallurgist, a career which began at Pratt & Whitney following his graduation from Michigan Tech. He later joined Avco Lycoming as a metallurgist, and RX Jeneric Gold Co. as its director of Research and Development.
During the course of his career, Dr. St. John received masters degrees in Business Administration from the University of Bridgeport (CT) and the University of New Haven. In 1999, he was awarded an honorary doctorate of Engineering from Michigan Tech.
Dr. St. John has been a generous philanthropist to many causes. In 1999, he provided an initial investment towards a $1 million endowment for the establishment of the Franklin St. John Endowed Chair in Materials Science and Engineering, an honor held by the current chair of the department. It was the first million dollar gift that Michigan Tech received. He also established endowed scholarships to assist students from his childhood home of L'Anse (MI) to attend Michigan Tech, scholarships to assist needy students attending Sacred Heart Elementary School in L'Anse, and a fund to assist L'Anse schools acquire educational equipment and facilities. He is also a generous donor to the University of Connecticut.
Following his gift to Michigan Tech, Franklin stated, "It's a give-back thing; without Michigan Tech, I'd be working somewhere in the woods."
Dr. St. John was inducted into the Academy of Metallurgical and Materials Engineering in 1996.
REF: Foresight, Michigan Tech University, Spring 2007.
Kampe Appointed Chair of Materials Science and Engineering, Receives Franklin St. John Professorship
St. John Family Provides Another $1 Million Estate Gift to Michigan Tech