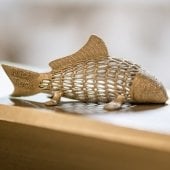 The Advanced Metal 3D Printing Center houses a powder bed fusion 3D Systems DMP Flex 350 Metal Printer. It is available for use by the campus and external communities. The printer is capable of producing parts with complex geometry from metal powders on a scale similar to industry standard.
Location: M&M117
Contact: Russell Stein
---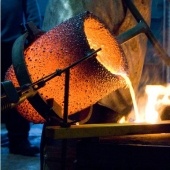 Metal Casting (Foundry)
The foundry facility supports metal-casting activities, primarily focusing on aluminum and iron. Michigan Tech is one of only a handful of education institutions nationwide that have retained an in-house foundry. Most campuses and industries have bits and pieces of a metal design process. Not us. Our team of faculty, staff, and students are present from first calculation to final report—transferring the billet each step of the way. With Kevlar gloves, of course.
Specialized lab equipment includes
Die Caster
High Vacuum Induction Caster
High Pressure Induction Melter
Arc Melter
Melt Spinner
Directional Solidification and Crystal Growth
Induction Melting
Vacuum Induction Melting
Extrusion Press
Rolling Mill
Hammer Swage
Wire Drawing
Location: M&M107
Contact: Paul Sanders
---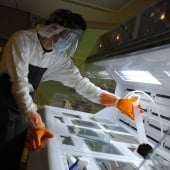 ---
Other Materials and Processing Labs and Equipment
Deformation Processing
Powder Processing | Location: M&M 531 | Contact: Paul Fraley

Powder Mixing, Powder Compaction, Cold Isostatic
Hot Isostatic Pressing, Mechanical Alloying

Hot Vaccuum Isostatic Press
Inert Atmosphere Processing
Thermal Processing and Heat Treatment | Location: M&M 530 | Contact: Paul Fraley
Machine Shop


CNC Machining and Welding/Joining

Microwave Processing
Particulate Separation
Photovoltaics and Solar Cells