A Place For Opportunity
Scientific and technical communicators manage communication processes – developing and streamlining document content and design within various organizations, from government to business. At Michigan Tech, you are trained to address complex research questions from multiple perspectives, while gaining real-world experiences in making scientific, technical, and practical knowledge accessible to any audience.
Your STC degree means entering a high-demand field – #4 in Best in Creative and Media Jobs by US News & World Report in 2022. This means plenty of choice about what field you enter: from research and development (R&D) or engineering to user experience, marketing, public relations, or media development.
Watch STC at Michigan Tech video
STC at Michigan Tech
A Place for Research and Engagement
At an engineering-based university like Michigan Tech, STC students have a unique opportunity to work directly with their engineering peers. You can join a research group, participate in an enterprise, or engage in senior design projects – leading the communication effort, while learning to collaborate and gaining confidence in developing the right message for your audience. Our students lead.
A Place You Make An Impact
Our graduates are prepared to succeed both here and in their careers through the coursework and extracurricular opportunities available. We instill a growth mindset that challenges our students to reflect on every experience and adapt. Don't just take our word for it. Hear it from our students.
"I'm definitely thankful for having studied STC at Michigan Tech, just because it was foundational to who I am and my career today and where I am just [in] my life today."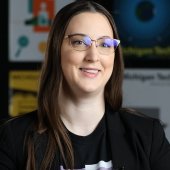 A Place for Growth
We support our students, ensuring you have the opportunity to gain real-world experiences while on campus:
Utilize our network for co-op and internships with domestic and international businesses and organizations
Attend national conference and summits with scholarship funds
Meet with the STC Advisory Board
Enhance your resume, portfolio, and interview skills through workshops
Contact our Undergraduate Academic Advisor, Maria Bergstrom, to learn more.