The Humanities Modern Language program at Michigan Technological University is a vibrant and dynamic program, with energetic and enthusiastic instructors. Students wishing to take courses in modern languages at Michigan Tech have a choice of three minors: French, German, and Spanish. Additionally, Michigan Tech offers many opportunities for study abroad through International Programs and Services. Students may satisfy the new general education global literacy requirement by successfully completing at least one 3000 level language class in French, German or Spanish.
Hear from Study Abroad Students!
Watch France video
France
Watch Germany video
Germany
Watch Peru video
Peru
Besides taking classes, students enjoy a bubbling extra-curricular life with conversation hours, a Modern Language movie night series, cooking classes and other events.
Covering a full four-year sequence, hallmarks of our modern languages programs include:
A focus on cultural, historical, social, and geographical perspectives at all levels
Specialized discourses and topics, including literary, social, economic, scientific, engineering, or business
Fourth year advance seminars in literature and film
Have a Question?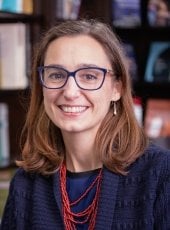 Director, Modern Languages Program
Teaching Professor, Spanish Modern Language Program