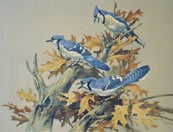 Exhibit
Five prints
Hours
8 a.m. to 5 p.m., Monday–Friday
About the Artist
An influential teacher started Roger Tory Peterson (1908–1996) on his path by encouraging him to join the Junior Audubon Club.
The Jamestown, New York native became completely absorbed in the world of birds, with a passion for identifying species. His field sketches led to a career as an artist—and to the Peterson Identification System, a result of his first book, A Field Guide to the Birds, published in 1934.
When Peterson died at age 87 he was working on the fifth edition of his landmark Field Guide to the Birds of Eastern and Central North America, along with several other book projects. He was still traveling to observe, and to share his beloved birds. We are fortunate to share the joy of the world and its creatures so beautifully expressed in his art.