Brian D. Barkdoll, PE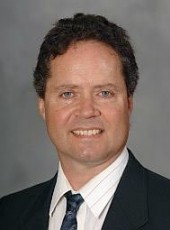 Interim Chair, Civil, Environmental, and Geospatial Engineering
Professor, Civil, Environmental, and Geospatial Engineering
PhD, Civil Engineering, University of Iowa
MS, Environmental Engineering, University of Cincinnati
BS, Civil Engineering, University of Akron
Biography
Dr. Barkdoll has degrees from the Universities, of Akron, Cincinnati and Iowa. He has spent 4 years as an engineer for the U.S. Peace Corps in Nepal. Dr. Barkdoll's teaching interests include fluid mechanics, hydraulics, hydrology, sediment transport, contaminant transport, and water collection and distribution. His research interests are in sedimentation, scour, oxygen transfer, clay permeability, vortices, acoustics, stream restoration, dams and reservoirs, intakes, water distribution systems, international development, and environmental sustainability.
Dr. Barkdoll is a member of the ASCE Sedimentation Committee and the Environmental Hydraulics Committee. He has won the Daniel W. Mead Award for Younger Members of the American Society of Civil Engineers and the Chi Epsilon James M. Robbins Excellence-in-Teaching Award for the S.W. District. He has published over 35 technical papers and given over 25 seminars at international conferences.
Dr. Barkdoll has been involved in over $1.3M of research and is a member of 8 professional societies. He regularly reviews technical papers and proposals to 10 journals and funding organizations.
Dr. Barkdoll is a Diplomate of the Academy of Water Resources Engineers (D.WRE). He is currently the Chair of the Sedimentation Technical Committee of the American Society of Civil Engineers.
Links of Interest
Research Interests
Dam Decommissioning
Environmental Engineering
Hydraulic Structures
River Mechanics
Sediment Transport
Stream Rehabilitation
Sustainability
Pakdehi, M., Ardestani, M., Niksokhan, H, and Barkdoll, B.D. (2023) Using Analytical Hierarchy Process for Excess-Chlorine Risk Assessments in a Water Distribution Network: A Case Study, Journal of Environmental EngineeringVolume 149, Issue 12
Barkdoll, B.D. (2023). Effect of Increasing Discharge on Municipal Storm Sewer Systems: Exploring the Connection to Total Maximum Daily Load, Journal of Environmental Engineering, Volume 150, Issue 1, https://doi.org/10.1061/JOEEDU.EEENG-7453
Barkdoll, B.D. (2023). "Moving statistic method (MSM) for quantification of changes in precipitation intensity and dry periods caused by climate change and demonstration on major U.S. cities." Sustain. Water Resour. Manag. 9, 94 (2023). https://doi.org/10.1007/s40899-023-00880-9
Jones, F. and Barkdoll, B.D. (2022) Viability of Pressure-Reducing Valves for Leak Reduction in Water Distribution Systems. November 2022, Water Conservation Science and Engineering 7(4):1-14, DOI:10.1007/s41101-022-00171-y
Sheefa DE, Handler RM, Barkdoll BD. (2022). "Eco-efficiency analysis of water distribution system flushing into a containment Pond." J Environ Manage. 2022 Nov 1;321:115987. doi: 10.1016/j.jenvman.2022.115987. Epub 2022 Aug 24. PMID: 36027734.
Javid, A., Roudbari, A., Yousefi, N. et al. Modeling of chromium (VI) removal from aqueous solution using modified green-Graphene: RSM-CCD approach, optimization, isotherm, and kinetic studies. >J Environ Health Sci Engineer (2020). https://doi.org/10.1007/s40201-020-00479-8

Kraft, Lily & Barkdoll, Brian D. (2020) "Effect of reservoir elevation on energy consumption in water distribution systems," Urban Water Journal,

Tavakoli, H. (Department of Civil, Environmental, and Geospatial Engineering, Michigan Technological University, 1400 Townsend Dr., Houghton; MI; 49931, United States); Barkdoll, B.D., Sustainability-based optimization algorithm
Source: International Journal of Environmental Science and Technology, v 17, n 3, p 1537-1550, March 1, 2020
Azari, A., Tavakoli, H., Barkdoll, B. D., & Haddad, O. (2020). Predictive model of algal biofuel production based on experimental data. Algal Research, 47, 101843.
Margaret Neff, Brian D. Barkdoll, Pipe enlargement to satisfy concentration-time product for in-system disinfection in a water distribution system , Journal of Water, Sanitation and Hygiene for Development (2019) 9 (4): 601–607. DOI: https://doi.org/10.2166/washdev.2019.197
Alizadeh Fard, M., Vosoogh, A., Barkdoll, B., and Aminzadeh, B. (2017). "Using polymer coated nanoparticles for adsorption of micropollutants from water." Colloids and Surfaces A: Physicochemical and Engineering Aspects, https://doi.org/10.1016/j.colsurfa.2017.08.008
Kierys, D. and Barkdoll, B.D. (2017). "Sustainability-inspired composting latrine design." Journal of Water, Sanitation and Hygiene for Development.
Champagne, T.M., Barkdoll, B.D., and González-Castro, J.A. (2017). "Experimental Study of Scour Induced by Temporally-Oscillating Hydraulic Jump in a Stilling Basin." J. Irrigation and Drainage Engineering.
Bhattu, B., Barkdoll, B.D., and Breffle, W.S. (2017). "A Sustainability-Based Socio-Technical-Environmental Project Selection Algorithm." Sustainable Water Resources Management.
Champagne, T.M.; Barkdoll, B.D.; Gonzalez-Castro, J.A.; Deaton, L. (2016). "Scour reduction by air injection: Flow patterns and turbulence." Journal of Hydraulic Engineering, v 142, n 3,March 1, 2016.
Barkdoll, B.D.; Murray, K.; Sherrin, A.; O'Neill, J.; Ghimire, S. R. (2016). "Effective-Power-Ranking Algorithm for Energy and Greenhouse Gas Reduction in Water Distribution Systems through Pipe Enhancement." Journal of Water Resources Planning and Management, v 142, n 1, January 1, 2016.
Pebler, P.T. and Barkdoll, B.D. (2016). "Sustainable sanitation, improved use of composting latrines through mixing and moisturizing: case study in Paraguay." Environment, Development, and Sustainability, DOI 10.1007/s10668-016-9780-0.
Arnold, N., Archer, A., and Barkdoll, B.D. (2016). "Bacterial adaptation and performance of household biosand water filters in differing temperatures." Water Science and Technology: Water Supply.
Barkdoll, B., Kantor, C., Wesseldyke, E., and Ghimire, S. (2016). "Stormwater Low-Impact Development: A Call to Arms for Hydraulic Engineers." J. Hydraul. Eng. , 10.1061/(ASCE)HY.1943-7900.0001152 , 02516002
Barlock, R., Barkdoll, B., and González-Castro, J. (2016). "Experimental Demonstration of a New Extension Plate Scour Countermeasure Downstream of Stilling Basins." J. Hydraul. Eng. , 10.1061/(ASCE)HY.1943-7900.0001183 , 06016013.
Abbott, O'Neill, Barkdoll (2014) "Adaptive Greedy Heuristic Algorithm for Redundancy Augmentation by Loop Addition in Branched Water Distribution Systems." ASCE J. Water Resources Planning Management, 10.1061/(ASCE)WR.1943-5452.0000480 , 06014005
Anderson, M.J.; Barkdoll, B.D. "Incorporation of air emissions in dredging method selection." Journal of Waterway, Port, Coastal and Ocean Engineering, v 136, n 4, p 191-199, July/August 2010.
2019. Vitton, S. J. (Co-Principal), Barkdoll, B. D. (Co-Principal), Liu, Z. (Principal), Improved Calculation of Scour Potential in Cohesive Soils and Scour Susceptible Rock, Sponsored by: Michigan Dept of Transportation, Requested: $90,418, Awarded: $90,418, Matching (MTU): $0. (May 1, 2019 - November 15, 2020). (Awarded).
Dr. Barkdoll teaches courses in water resources engineering, hydraulic structures, water distribution and wastewater collection, and stream restoration.