What is HuskyLEAD?
HuskyLEAD is a leadership development series for all Michigan Tech students. We believe that leadership development is essential for all students to truly make an impact on campus and society. This program encourages all students from campus leaders and student organization officers, to individuals who just want to learn, to elevate their leadership skills by learning the best techniques, skills, and tips for their personal, organizational, and professional success.
What skills are built through participation in the HuskyLEAD Series?
The HuskyLEAD series focuses on five different leadership competencies:
Self-Awareness: Part of strong leadership is learning about yourself – strengths, weaknesses, and personal values – and how to advance organizations and individuals using that self-knowledge.
Teamwork: Cooperation and collaboration are important skills to learn as a leader. You will learn about how to use and navigate groups and teams to promote strong leadership.
Communication: Leaders must understand the "how" and "why" behind communication in order to understand how others can best contribute, how to share information effectively with others, and how to send the desired message.
Ethical Practices: The ethical practices of leaders are constantly challenged. Leaders must stay congruent with ethical principles and practices and the value of affecting others lives positively.
Social Responsibility: As leaders, one of our goals is to understand our roles as members of multiple communities and how we can better the lives of those in those communities through direct and/or indirect involvement.
Spring 2022 HuskyLEAD Schedule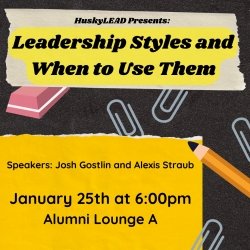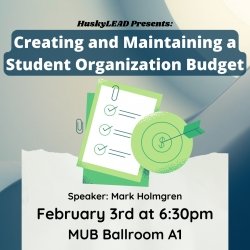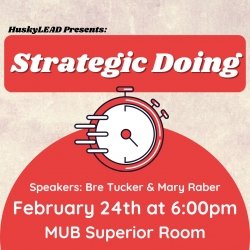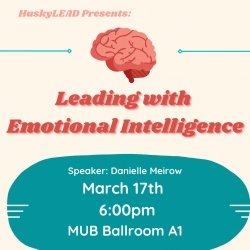 ---
Tuesday, January 25 - "Leadership Styles and When to Use Them" - Visionary Leadership, Servant Leadership, Transformational Leadership - you've likely heard these words, but do you understand what each means? There are many different leadership styles that you might embody and your leadership style might change based on the action you are taking or the relationship you are building. Join Alexis Straub and Josh Gostlin from Residence Education and Housing Services at 6:00 p.m. in MUB Alumni Lounge A to learn more about these various styles and when to use them!
---
Tuesday, February 3 - "Creating and Maintaining a Student Organization Budget" - Student Organization Budget Hearings are quickly approaching! Learn budgeting best practices for creating and maintaining your organization's finances during this workshop. Basics from setting up your organization's budget tracking spreadsheet to tracking expenses will be reviewed. Join Mark Holmgren from Student Leadership and Involvement at 6:30 p.m. in the MUB Ballroom A1 to learn more!
---
Thursday, February 15 - "Facilitating Difficult Conversations" - Disagreements happen, values differ, commitment varies - as a leader, you may have to engage in a difficult conversation for a number of reasons. While these conversations are never easy, there are simple ways to help ensure it goes smoothly. Join Anna McClatchy from the Dean of Students Office and Debra Charlesworth from the Graduate School at 6:00 p.m. in the MUB Ballroom A1 to learn to facilitate difficult conversations effectively.
---
Thursday, February 24 - "Strategic Doing" - Strategic Doing teaches people how to form collaborations quickly, move them toward measurable outcomes and make adjustments along the way. Strategic Doing enables participants to design and guide new networks that generate innovative solutions. It is a new strategy discipline that is lean, agile, and fast—just what student organizations and Michigan Tech community needs to grow and thrive. Join Bre Tucker from the Enterprise Program and Mary Raber, Director of the Tech Forward 21st Century Education Initiative, at 6:00 p.m. in the MUB Superior Room to consider ways to practice strategic doing!
---
Thursday, March 17 - "Emotional Intelligence" - IQ can get you far, but can EQ get you farther? We all recognize the power of relationships, but how do you develop your own emotional intelligence skills? This workshop will both introduce the topic of emotional intelligence as well as offer practical strategies and ideas for improving your own. Join Danielle Meirow from Student Leadership & Involvement to learn more at 6:00 p.m. in MUB Ballroom A1 to learn more!
---
Tuesday, March 29 - "Effective Leadership Transitions" - As the semester winds down and election season is upon us, it is time to start considering your leadership transition. How will your organization retain knowledge, pass down supplies, and ensure the smooth continuation of your group? Join Jessie Stapleton, Director of Student Leadership and Involvement, and Sarah Anderson, past MUB Board Vice President and Alpha Sigma Tau President, at 4 p.m. in Alumni Lounge A to learn best practices for ensuring the strong continuation of your student organization. They will share suggestions for digital documentation, transition meetings, and other tips and tricks to set you up for success!
Previous HuskyLEAD Sessions