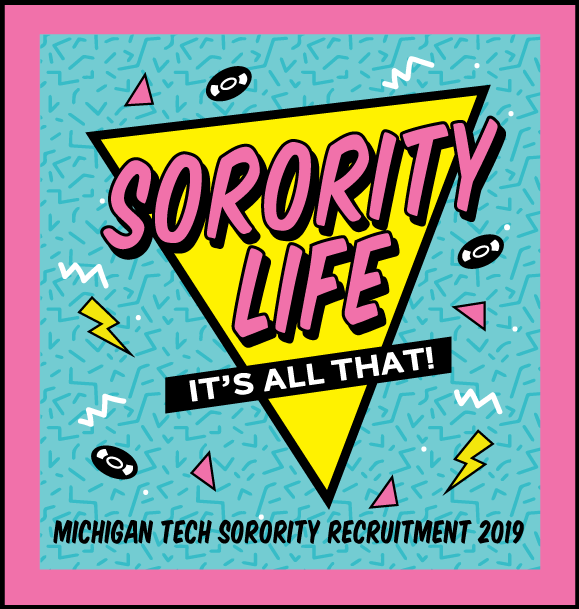 ---
To be eligible to join a sorority as a first semester first-year student at Michigan Tech, you must have at least a 3.0 high school GPA and be in good standing as a student. As a second semester first-year and above, you need to have a 2.50 cumulative Michigan Tech GPA. Please note that these are Michigan Tech minimums, and some sororities choose to have higher GPA requirements. There is also a $20 registration fee for Formal Recruitment. Formal Sorority Recruitment takes place over the course of a couple weeks in September, and a full list of events is posted each fall on the Panhellenic Council Involvement Link page.
More general information about the Sorority Recruitment process can be found below:

Sororities at Michigan Tech participate in formal recruitment each fall. If you are considering joining a sorority in the fall, you are highly encouraged to participate in formal recruitment. Formal recruitment allows each potential new member (PNM) to attend events that inform you about all sororities and allows you to meet members from each organization.
Fall Formal Recruitment is a time to get to know sorority life. It is a period of scheduled events that allows you to meet members from each organization and learn more about them. Bids are then given out after the last event is held. In order to receive a bid, each potential new member must attend these events.
Joining a sorority is a big decision, so make sure you meet as many women as possible during this time to ensure you find where you fit best when making this lifelong decision. Just because you register for Formal Recruitment does not mean that you must actually join a sorority. You are encouraged to learn as much as you can during recruitment so you can make an informed decision.
Spring recruitment is an informal process where each sorority plans their own recruitment events. To find dates and times of recruitment events look for table tents, sandwich boards, and flyers around campus. Bids can be given out at any time throughout the semester.
Once you accept a bid, the new member process will begin. Each sorority has a different process and varies in time. In general, a process can last between five to eight weeks and usually ends with a week of chapter events. Michigan Tech is a strictly non-hazing campus and hazing is not tolerated in any way, so do not let it deter you in your decision to join a sorority or any other student organization.
The best thing to keep in mind when attending these events is to not let yourself get overwhelmed. These women want to be your friend and they genuinely want to get to know you. Simply introduce yourself and relax. All Greeks have been in your shoes once so they understand if you are nervous.
---
For more information about each organization, check out their Involvement Link pages:
The organizations listed above are all registered student organizations at Michigan Tech. View a list of student organizations that have been suspended, terminated, or NOT re-registered or affiliated with Michigan Tech online.
---