John Schneiderhan (Van Pelt and Opie Library technologist)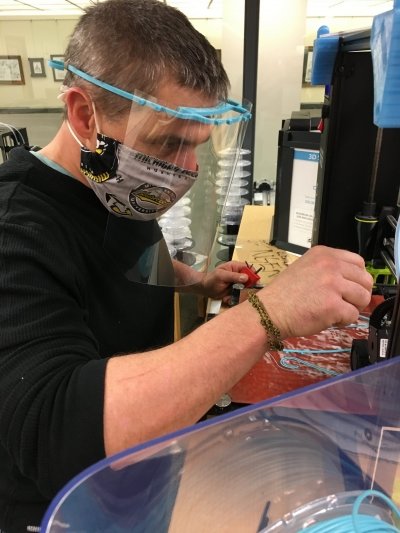 What I miss most of all are the students and their energy.
We see many aspects of the students' lives here as the weeks pass each semester. The year has a flow. The library is a safe space, an oasis where students come to find solace, dedicate time to their research and study, eat, sleep, or collaborate on group projects.
One of my responsibilities is scheduling and coordinating 3D prints for students and patrons. I can see the 3D printers and scanner right outside my office door. Normally, I have a group of regular students that navigate to the devices with curiosity or interest in being creative or innovative.
Today it is just David Holden and myself here in the library with the occasional facilities staff member doing their part and helping wherever they can. There is a glimpse of normalcy within our social distance collaboration with the incredible materials sciences and engineering students working on the 3D-printed personal protection equipment (PPE) project. They bring so much value and energy to the production. They deliver insight, technical innovation, compassion, and conservation to the cause. The atmosphere is completely different without the students, without the staff, without people. It's not the library. It's just a building. It's a building where David and I have been coming to work on production, to do our best to help and support the health of the community. #mtuhumans
Michigan Technological University is a public research university founded in 1885 in Houghton, Michigan, and is home to more than 7,000 students from 55 countries around the world. Consistently ranked among the best universities in the country for return on investment, Michigan's flagship technological university offers more than 120 undergraduate and graduate degree programs in science and technology, engineering, computing, forestry, business and economics, health professions, humanities, mathematics, social sciences, and the arts. The rural campus is situated just miles from Lake Superior in Michigan's Upper Peninsula, offering year-round opportunities for outdoor adventure.