Janet Callahan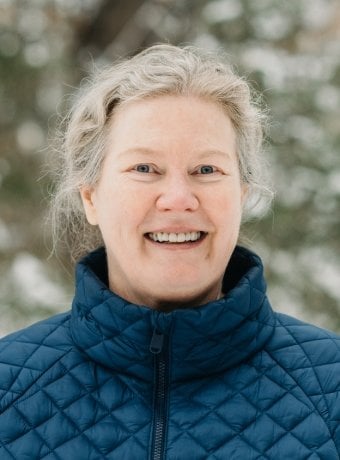 Contact
906-487-1685
M & M Building 409

Professor, Materials Science and Engineering
PhD, Materials Science, University of Connecticut at Storrs
MS, Metallurgy, University of Connecticut at Storrs
BS, Chemical Engineering, University of Connecticut at Storrs
More about Janet Callahan
Dr. Callahan earned all three degrees from the University of Connecticut at Storrs, starting with a bachelor's of science degree in chemical engineering. As a senior, Callahan took a required course in Materials Science and Engineering. In this first course, introducing the field of Materials Science and Engineering, she became keenly interested in materials, and particularly metals and the oxides that grow on them and help keep them from degrading.
She was subsequently recruited to graduate school by her mentor, Dr. Donald Potter (the person who taught the course) where she earned a masters of science degree in Metallurgy and then a PhD in Materials Science. "My graduate education did not cost me anything, and in fact my tuition was paid for because of the research that I was doing," she says. "Across my time in graduate school, I earned a 'stipend,' enough to pay for rent, utilities, and food—and even pay for daycare. I wish more students would understand that if you earn a graduate degree (a MS or a PhD) while doing research, that it is usually income-neutral—with no debt generated, assuming you are working on an externally funded project. So earning a graduate degree, whether an MS or PhD (and an MS is not required to earn a PhD)—is only a positive goal. That's because with each additional degree you earn, you will find you will be paid more when hired at entry level, roughly $10K more per additional degree."
Why did Callahan switch her field to Materials Science? "I finally understood what I loved about Chemistry when I took that Materials Science course. It was about finally understanding the reason why," she explains. "Why metals can bend (plastically deform—think about bending a paperclip), and why ceramics cannot (think glass, which can elastically bend a bit, but then suddenly snaps). Why metals conduct electricity. Why many metals react with their environment. Why ceramics are more stable and are often used as insulators. How silicon and other semiconductors can span both worlds of metals and ceramics. Why high-end, light-weight bicycles and airplanes formed from composites have improved properties. And more."
After earning her PhD in Materials Science, Callahan competed for and was awarded a National Science Foundation postdoctoral fellowship to conduct research in Melbourne, Australia. After, she joined Georgia Tech as a faculty member of their Department of Materials Science and Engineering, serving as assistant and associate professor. Callahan then joined Boise State University in Idaho as professor to help launch their new programs of study in materials science and engineering, supported by Micron. She was appointed the founding associate dean for the College of Engineering, and then served as chair of the Micron School of Materials Science and Engineering. In 2018, Callahan competed for the position of dean of the College of Engineering at Michigan Tech, and was appointed the15th dean of the College. She held this position until 2023.
Dr. Janet Callahan is a Fellow of the American Society for Engineering Education (ASEE), a Fellow of The American Ceramic Society (ACerS), and a longstanding volunteer for ABET, the accreditation body for engineering programs. In addition, Callahan is a member of the University of Connecticut's Academy for Distinguished Engineers. She encourages everyone who attended a university to stay in touch with their home department.
Finally, Janet is a lifelong member of Girl Scouts, where she learned to canoe, ski, camp, sing, and be relatively fearless in exploring brave new worlds (including Connecticut, Australia, Georgia, Idaho, and the Upper Peninsula of Michigan!). Her love for Girl Scouts was inspired by her mother who was a troop leader for several years.
"I am inspired to be a professor by those who inspired me."
Research Interests (not active)
Materials Science, Medical Devices
brachytherapy and related materials synthesis
biomaterials with an emphasis on metallurgy
oxidation of high temperature and refractory alloys
ion beam synthesis of nanomaterials oxides
coatings
Engineering Education
faculty development
first year engineering retention, and STEM retention
K-12 partnerships
I chose a STEM career. Along the way, I had the benefit of amazing teachers and mentors, who nurtured my developing interests.
I wish to acknowledge three teachers in particular who had a profound influence on my interest in learning STEM and in simply, learning.