Research takes many forms at Michigan Tech. Here is a glimpse of the work done on campus and abroad.
Not Just a Dad Sport
More young women are buying fishing licenses in the Great Lakes region, while the number of male anglers is generally declining. The finding is one of several in a new study exploring regional demographics of fishing.
Richelle Winkler, associate professor of sociology and demography and the principal investigator for the study, with doctoral candidate Erin Burkett, examined changes in the angling population by looking at recent trends in anglers through various demographic lenses, such as gender, age, and generational differences.
Each year, approximately 1.8 million recreational anglers fish the Great Lakes. Millions more fish inland lakes and streams across the Upper Great Lakes region. Anglers play a critical role in the region's fisheries, their related ecosystems, and fisheries management practices and policies.
Find out what the changing face of anglers means for fisheries management.
Advancing Faculty Careers
A more diverse STEM workforce starts with more diverse faculty. To make that a reality, an interdisciplinary campus team has a goal: measurable increases in retention and career advancement of women and under-represented minorities at Michigan Tech within the next three years. Among the initiatives are career development teams, programs addressing intersectional disadvantages, and managerial training for chairs.
The National Science Foundation has granted $1 million to Michigan Tech faculty Adrienne Minerick, Patty Sotirin, Sonia Goltz, Andrew Storer, and Audrey Mayer to continue the work of existing programs and implement new ones based on other university programs.
"We are inspired by, but not bound to, the work of similar teams on other campuses," Sotirin says. "We look forward to the collaborative development of programs that are responsive to our uniqueness and that open new possibilities for campus culture change, equity, and success."
Learn more about the ADVANCE program.
Glimpse the Stars
Robert Nemiroff, professor of astronomy and astrophysics, co-created the Astronomy Picture of the Day (APOD) website with Jerry Bonnell, a fellow astrophysicist and staff scientist at NASA's Goddard Space Flight Center working on the Fermi Gamma-ray Space Telescope team. Nemiroff and Bonnell track down, post, and explain images that endeavor to inspire a spirit of curiosity and open the eyes of viewers to the myriad opportunities to take a voyage through space via photography.
APOD, translated into more than 20 languages, typically receives more than 800,000 views with a social media following of more than 1.3 million people, popularizing science and inspiring a love of astronomy.
Enjoy the view from the "Small and Drifting Planet" in an Unscripted photo essay.
Before and After: Hurricanes Irma and Maria Hit Puerto Rico
When Hurricanes Irma and Maria carved their destructive paths across the Caribbean, they left behind grieving communities without power, badly damaged homes and infrastructure, and completely altered ecosystems. One of these was the El Yunque National Forest, on the northeastern side of Puerto Rico.
El Yunque is the only tropical forest in the US Forest Service (USFS) system, which makes it ideal for understanding the effects of climate change where those changes will impact the most. Molly Cavaleri, associate professor of tree physiology in the School of Forest Resources and Environmental Science, is leading Tropical Responses to Altered Climate Experiment (TRACE), a USFS and Department of Energy (DOE)-funded project, with fellow researchers Tana Wood from the USFS, and Sasha Reed with the US Geological Survey.
When Irma passed the island, the forest canopy where the TRACE project is located was patchily damaged. Hurricane Maria finished the job, and marred project equipment at the same time.
These events left the researchers wondering how to move the project forward now that many, if not all, of the parameters had been dramatically altered.
"When you walk into what was previously a closed-canopy forest, it's hot, there's no shade, and the forest is basically reset," Cavaleri says of her visit to El Yunque Experimental Forest in January 2018.
Cavaleri has pivoted the project with her co-investigators into a warming and disturbance regime study—the only one of its kind in the world.
"We got four good years of data," Cavaleri says. "I'm so grateful my whole lab was there all summer. I had three undergraduates there doing projects, my PhD student was doing a project all summer, and they finished a full campaign. They got back a week before the first hurricane hit. We were lucky."
Cavaleri and her team secured a DOE Office of Science grant to document and study the disturbance and recovery of the El Yunque TRACE site. They will also continue their work on detailing the effects of rising temperature impacts on tropical forests and carbon storage through above- and below-ground processes.
Follow the TRACE experiment.
H-STEM Engineering and Health Technologies Complex
The Michigan legislature has granted planning authorization for a new H-STEM Engineering and Health Technologies Complex on campus. The following projects, many funded by the Portage Health Foundation, will use the space to create technological solutions to enhance human health and quality of life.
Alzheimer's
What if cognitive decline could be detected early with motor skill learning tests? That's the focus of a new National Institutes of Health study led by Kevin Trewartha, assistant professor of cognitive and learning sciences, as well as kinesiology and integrative physiology. His team uses robotic handles and augmented reality screens to gauge how well patients think about and learn new physical skills, which may reflect early signs of cognitive impairment.
Learn what kind of tech the team hopes will help doctors.
Cancer
Cells need carbohydrates; facilitative glucose transporters (GLUTs) bring nutrients in and out of cells. GLUTs are the foundation of research by Marina Tanasova, assistant professor of chemistry. In partnership with Smitha Rao, assistant professor of biomedical engineering, they test GLUT-based fluorescent probes to detect cancer and distinguish one type from another, providing a fingerprint of the disease.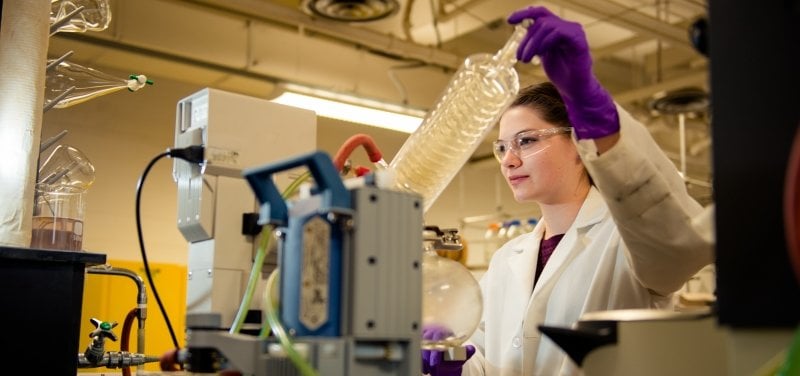 Skin
Lasers can help skin-firming serums and anti-wrinkle creams. Sean Kirkpatrick, professor and chair of the Department of Biomedical Engineering, designs laser technology to measure the effectiveness and longevity of beauty products. He partnered with Avon to create and test experimental formulas quickly and without relying on subjective feedback from focus groups.
Watch how laser diffraction patterns detect skin firmness.
Vaccine
Virus-like particles (VLPs) are empty viral shells formed by structural proteins. In vaccines, they elicit immune responses and are noninfectious, but can be fragile. Ebenezer Tumban, assistant professor of biological sciences, uses bacteriophage VLPs as platforms to develop vaccines against viruses such as human papillomaviruses (HPV), Zika virus, and Chikungunya virus. He uses the FEI 200kV Titan Themis Scanning Transmission Electron Microscope (S-TEM) to assess whether the structural proteins can assemble into VLPs and whether assembled VLPs are stable after storage at room temperature for months.
Look at VLPs under a microscope with the high-powered S-TEM.
Wounds
Nitric oxide and hydrogen peroxide are two healing compounds the body naturally makes to help close wounds. Megan Frost, associate professor of biomedical engineering, leads a team using nitric oxide technology to drop the healing time for diabetic foot ulcers from 150 days to 21. She joined Bruce Lee, assistant professor of biomedical engineering, and Caryn Heldt, James and Lorna Mack Chair in Bioengineering in chemical engineering, to test a microgel powder. While making smart glue, Lee's team discovered a handy byproduct: hydrogen peroxide. In microgel form, it reduces bacteria and virus ability to infect by at least 99 percent.
Healing with nitric oxide is a cell-mediated symphony of complexity.
Healing with the sticky amino acids in mussel feet.
Time Traveler
Don Lafreniere, associate professor of geography and geospatial information sciences (GIS), and Sarah Fayen Scarlett, assistant professor of history, travel through time. It started in 2013 when Lafreniere co-authored a paper about a concept called deep mapping: Projects curated by scholars that offer the public a spatial playground to explore open-ended questions about a particular place across time. Deep maps allow multiple representations of a place, rather than a solitary cartographic concept created by a single person, to weave rich narratives that would otherwise be lost to antiquity.
Watch The Keweenaw Time Traveler video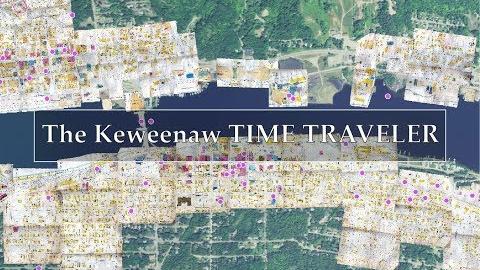 The Keweenaw Time Traveler
Michigan Tech researchers and local partners embarked on a journey to create the first deep map. The Keweenaw Time Traveler, the public-facing application of the Copper Country Historical Spatial Data Infrastructure, allows users to contribute to an online interactive historical atlas of the Keweenaw Peninsula. The project starts conversations—online and in person—about the region's industrial past and how it continues to affect lives and identities today.
Deep maps are built on scaffolds of spatial data, which include contemporary and historical records from census data, personal narratives, photographs, environmental information, and more. In the paper, Lafreniere wrote about the possibilities of deep mapping for both academics and the public.
In 2015, Lafreniere, Scarlett, and collaborator Robert Pastel, associate professor of computer science, and other colleagues, including local heritage partners, embarked on a journey to create the first deep map. The Keweenaw Time Traveler, the public-facing application of the Copper Country Historical Spatial Data Infrastructure, allows users to contribute to an online interactive historical atlas of the Keweenaw Peninsula. The project starts conversations—online and in person—about the region's industrial past and how it continues to affect lives and identities today.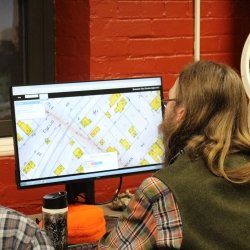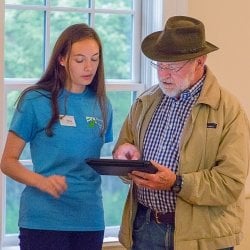 "This project brings together qualitative and quantitative information and allows multiple interpretations about the past," Lafreniere says. "We asked ourselves, how can we build an infrastructure that allows researchers to study social mobility, immigration, and segregation, as well as allow a framework for the public to share their stories about how these things played out?"
The Time Traveler embeds users in more than 60 years of historical maps, images, and contributed stories. It's a compendium of big historical data sets. The public uses it and so do Michigan Tech researchers. They work to understand industrial contamination patterns and for geoheritage tours. To manage relief efforts in Ripley, Michigan, after the June 2018 floods, the Federal Emergency Management Administration (FEMA) examined historical land uses.
The next steps include continuing to improve the functionality of the program and the expansion of stories within the Time Traveler's Explore app. For example, how has Michigan Tech's campus evolved, and how did the lives, professions, and personal contributions of certain people influence change?
stories contributed in the Explore app

classifications of map features by citizen historians

variables about people and places across space and time
"It's our hope that people use the platform to better visualize the data they need to answer their questions, to think of new questions, or to learn something they didn't know about the area," Scarlett says. "When people feel more connected to the places where they live, they usually make better connections with each other."
Explore the Keweenaw's history for yourself.
Michigan Technological University is a public research university founded in 1885 in Houghton, Michigan, and is home to more than 7,000 students from 55 countries around the world. Consistently ranked among the best universities in the country for return on investment, Michigan's flagship technological university offers more than 120 undergraduate and graduate degree programs in science and technology, engineering, computing, forestry, business and economics, health professions, humanities, mathematics, social sciences, and the arts. The rural campus is situated just miles from Lake Superior in Michigan's Upper Peninsula, offering year-round opportunities for outdoor adventure.