Adrienne Minerick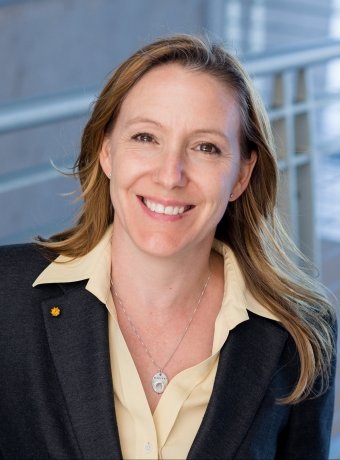 Contact
906-487-2796
Chem Sci 717A
Professor, Chemical Engineering
Affiliated Professor, Biomedical Engineering
President, American Society for Engineering Education (ASEE)
PhD, Chemical & Biomolecular Engineering, University of Notre Dame du lac (USA)
MS, Chemical & Biomolecular Engineering, University of Notre Dame du lac (USA)
BS, Chemical Engineering, Michigan Technological University (USA)
Biography
Adrienne R. Minerick joined the faculty at Michigan Tech as an Associate Professor in 2009 and was promoted to Professor in 2015. In addition to the listed titles, she also serves as an Affiliated Professor with the Department of Biomedical Engineering at Michigan Tech.
Minerick's primary area of research is electrokinetics with a focus on medical microdevices, blood cell dynamics, and point of care diagnostics. Her group's primary area of specialty is dielectrophoresis which utilizes nonuniform AC fields to manipulate polarizable cells and other dielectric biomaterials.
She has received numerous honors and awards, including the distinction of Fellow of AAAS (American Association for the Advancement of Science), a National Science Foundation 2007 CAREER Award, the 2011 Raymond W. Fahien Award, Chemical Engineering Division, American Society of Engineering Education (ASEE), Michigan Tech's Fredrick D. Williams Instructional Innovation Award, a New Investigator Research Award from Sigma Xi Chapter, one from ASEE-SE, and was the recipient of the Ralph E. Powe Junior Faculty Award, Oak Ridge Associated Universities. She and her students have published over 70 book chapters, archival journal publications or proceedings articles and earned 23 best paper/presentation awards.
Minerick previously served as the President of the American Electrophoresis Society (www.aesociety.org) and on the American Society for Engineering Education's (ASEE) Board of Directors as First Vice President and Professional Interest Council (PIC) I Chair. She also chaired ASEE's National Diversity Committee. Her research and service interests regularly intersect and involve underserved individuals with an emphasis on research experiences to increase engagement and retention.
Links of Interest
Research Interests
Microdevices
Medical diagnostics
Nonlinear electrophoresis
Moncada-Hernandez, H, E. Nagler, and A.R. Minerick, "Assessment of the particle-particle influence on the dielectrophoretic response of microparticles," Electrophoresis, 2014: 35 (12-13), pgs 1803–1813. DOI: 10.1002/elps.201300636Read More
H.Y. Lee, C. Barber, and A.R. Minerick, "Improving electrokinetic microdevice stability by controlling electrolysis bubbles," Electrophoresis, 2014: 35 (12-13), pgs 1782–1789. DOI: 10.1002/elps.201400013 Read More
An, R. D.O. Wipf, and A.R. Minerick, "Human red blood cell deformation and crenation under high frequency spatial AC field," Biomicrofluidics, 2014, 8(2): 021803 DOI: 10.1063/1.4867557 Read More
Adams, T.N., K.M. Leonard, and A.R. Minerick, "Frequency Sweep Rate Dependence on the Dielectrophoretic Response of Polystyrene Beads and Red Blood Cells," Biomicrofluidics, 2013, 7(6): 064114. DOI: 10.1063/1.4833095 Read More
Gencoglu, A and A.R. Minerick, "Electrochemical Detection Techniques in Micro- and Nanofluidic Devices," Microfluidics and Nanofluidics, March 2014. DOI: 10.1007/s10404-014-1385-z. Read More
Heldt, C.L., A.K. Sieloff, J.P. Merillat, A.R. Minerick, J.A. King, W.F. Perger, H. Fukushima, J. Narendra, "Stacked graphene nanoplatelet paper sensor for protein detection," Sensors and Actuators B, 2013, 181:92-98 DOI 10.1016/j.snb.2013.01.041. Read More
Leonard, K.M, and A.R. Minerick, "Explorations of ABO-Rh antigen expressions on erythrocyte dielectrophoresis: Changes in Cross Over Frequency," Special Dielectrophoresis Issue of Electrophoresis, 2011, 32(15): 2512-2522. DOI 10.1002/elps.201100077. Read More
Srivastava, S. K., A. Artemos and A. R. Minerick, "DC insulator-based dielectrophoretic characterization of erythrocytes: ABO-Rh human blood typing", Special Dielectrophoresis Issue of Electrophoresis, 2011, 32(15): 2530–2540. Read More
Srivastava, S. K. A. Gencoglu, and Minerick, A. R.; "DC insulator dielectrophoretic applications in microdevice technology: a review." Analytical and Bioanalytical Chemistry, Volume 399, Issue 1, Page 301, 2011. DOI: 10.1007/s00216-010-4222-6 Read More
Srivastava, S. K., A.R. Minerick, J. Baylon-Cardiel, and B.H. Lapizco-Encinas. "DC-insulator Dielectrophoretic Separation of Fluorescent Polystyrene Particles", Journal Chromatography A, 1218, p. 1780-1789, 2011. DOI: 10.1016/j.chroma.2011.01.082 Read More
Gencoglu, A, F. Camacho-Alanis, V. T. Nguyen, A. Nakano, A. Ros, and A. R. Minerick, "Quantification of pH Gradients and Implications in Insulator-Based Dielectrophoresis of Biomolecules", Special Dielectrophoresis Issue of Electrophoresis, 2011, 32(15): 2436–2447. Read More
Minerick, A.R., "The Rapidly Growing Field of Micro and Nanotechnology to Measure Living Cells," Invited Perspective with Cover Figure, AIChE Journal, Volume 54, Issue 9, Pages 2230-2237, 2008
Gencoglu, A and A.R. Minerick, "Chemical and Morphological Changes on Platinum Microelectrode Surfaces in AC and DC fields with Biological Buffer Solutions," Lab on a Chip, Volume 9, Issue 13, 2009. DOI: 10.1039/B820126
Srivastava S.K., P.R. Daggolu, S.C. Burgess, and A.R. Minerick, "Dielectrophoretic Characterization of Erythrocytes: Positive ABO Blood Types," Electrophoresis, Volume 29, Issue 24, Pages 5033-5046, 2008.