Research with impact needs to extend into clinics, classrooms, factories, companies, and beyond.
Along the Wild Shores of Lake Superior
Innovation is more than coming up with new ideas. It's making them happen.
Here's how we use our unique location in Michigan's remote Keweenaw Peninsula to push the boundaries of research: test winter tires on a specialized ice rink at the Keweenaw Research Center. 3D print adaptive aids for people with hand arthritis and share the open-source designs worldwide. Survey underwater infrastructure; sample the water above from a University research vessel. Build thermophones from carbon nanotubes—see the photo to the left—that can reduce noise from heating ducts and help reduce dust, while even smaller nanoparticles can sharpen medical imaging with high-brightness fluorophores. And more—nanosatellites, blood typing, meditation, cybersecurity.
Michigan Tech is at the confluence of these future-thinking projects and this remote, beautiful place. It spans many fields and fosters interdisciplinary teams in the effort to take ideas out of the lab, refine them, and bring them to market.
Innovation Center for Entrepreneurship
A collaboration between the Pavlis Honors College, School of Business and Economics, and the Vice President for Research Office, the Innovation Center for Entrepreneurship (ICE) kicked off in 2015 to cultivate innovation and entrepreneurship on Michigan Tech's campus. Programs include the New Venture Pathway, National Science Foundation-sponsored Innovation Corps (I-Corps) business development program, The Alley campus makerspace, student Entrepreneurs Club (E-Club), and the ICE House residential learning community. ICE launched the Husky Innovate series— workshops and events that guide participants through key phases of innovation and startup business development.
Co-director Jim Baker, associate vice president for research administration, explains, "Whether someone plans to work for a new company or an old company, for their own small startup or a large established corporation, the foundations of an entrepreneurial mindset are universally valuable and there are resources within ICE and through our collaborators to develop it."
Student Research
Undergraduate Student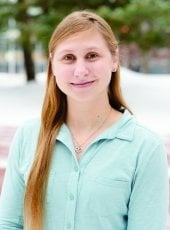 Kaylee Meyers is a biomedical engineering student developing an in vitro model system to study the effects that extracellular matrix stiffness has on cells during acute and chronic injuries—integral for tendon and ligament healing.
Meyers is building on research she and her advisor, Rupak Rajachar, principal lecturer of biomedical engineering, did over the summer that was supported through a grant from the National Institute of Health (NIGMS) and a Portage Health Foundation Undergraduate Research Internship Program scholarship. She explains: "We're developing injectable hydrogels to accelerate wound healing in tendons and ligaments. Our hydrogels are unique because they not only reestablish extracellular matrix structure and function, but also have a controllable drug-releasing element."
Meyers started doing research the third month of her first year on campus. And she knew before Orientation Week that she wanted to do biomedical engineering research. She recalls, "I actually decided on pursuing biomedical engineering at Michigan Tech the summer after my junior year [of high school] when I attended the Women in Engineering Summer Youth Program."
Only in her second year, her sights are already set on graduate school. "I like learning new things," she says, "and I enjoy the research we are doing: the meaningful work, the challenging atmosphere, and the sense of belonging that the comradery of our lab creates." Meyers was accepted to present both an individual poster and oral presentation at the American Society for Matrix Biology Conference in October 2018. Before two days of presentations, Meyers competed in a half marathon. Despite long days spent in classes or the lab, her eyes light up when she talks about her vocation.
Graduate Student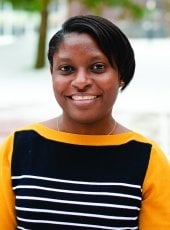 As a medical intern in Algeria in 2014, fourth-year biomedical engineering PhD student, Maria Paula Kwesiga, met a patient who changed her life. Complications from a prosthetic heart valve caused the patient's death; blood clots blocked a faulty heart valve. Kwesiga realized engineering could help improve current treatments for such pathologies. So she changed career paths and embraced two forms of frost: the Keweenaw and the personal (her graduate advisor is biomedical engineer Megan Frost). "I read about Frost's research in nitric oxide-releasing polymeric materials used for blood-contacting devices and how nitric oxide is involved in preventing the formation of blood clots," she says.
Kwesiga is the 2018 recipient of the Department of Biomedical Engineering Graduate Teaching Assistant of the Year award, vice president of the African Student Organization, and winner of presentation awards from the Upper Peninsula Local Section of the American Chemical Society, Michigan Physiological Society, and Michigan Tech's three-minute thesis competition. "I can't say enough good things about her," says Frost. "On all aspects of what a graduate student is intended to be doing, she's doing awesome."
In the lab, Kwesiga is building on Frost's research for clinical application in cardiology and skin-wound healing. She's also helping students learn experimental techniques, something she says she enjoys and would like to do after she graduates. "What drove me into coming to Michigan Tech was gathering the knowledge I need to be more involved with research and teaching in clinical practice."
Songer Awards
Matthew '79 and Laura Songer '80 recently donated funds to the College of Sciences and Arts (CSA) that support undergraduate and graduate student research.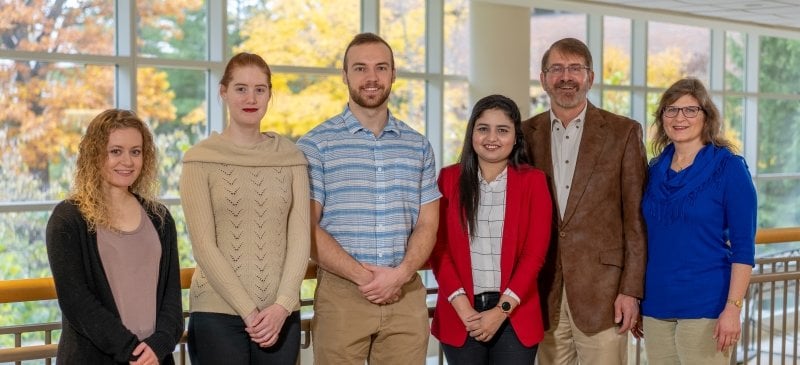 Undergraduate
Abby Sutherland
Gilliane Kenyon
Graduate
Rupsa Basu
Jeremy Bigalke
Michigan Technological University is a public research university founded in 1885 in Houghton, Michigan, and is home to more than 7,000 students from 55 countries around the world. Consistently ranked among the best universities in the country for return on investment, Michigan's flagship technological university offers more than 120 undergraduate and graduate degree programs in science and technology, engineering, computing, forestry, business and economics, health professions, humanities, mathematics, social sciences, and the arts. The rural campus is situated just miles from Lake Superior in Michigan's Upper Peninsula, offering year-round opportunities for outdoor adventure.