Michigan Tech's Tenth President

"This is an opportunity for those who recognize it. The window is open, but it will close if we don't take advantage of it." Richard Koubek sits at an oversized conference table in an undersized conference room. Laptops and cellphones clutter the surface; lighting equipment and video cameras clog the aisles. From the hallway, phones ring and voices emanate.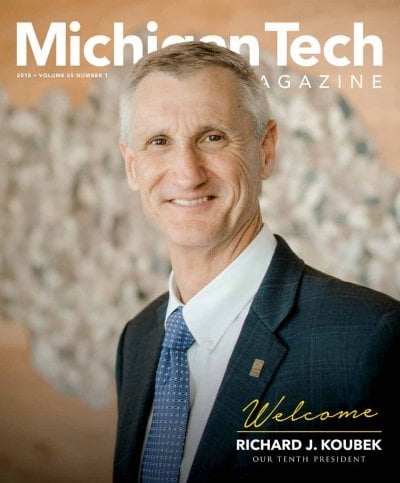 On the cover: Welcome Richard J. Koubek, our tenth president.
---
Published by University Marketing and Communications
Ian Repp—Director of University Marketing and Communications
Stefanie Sidortsova—Managing Editor
Vassilissa Semouchkina—Senior Designer
Jonathan Halquist—Graphic Designer
Sarah Bird—Photographer
Shannon Rinkinen—Articles Editor
Sarah Williams—Advancement and Alumni Engagement Editor
Crystal Verran—Director of Operations
Katie jo Wright—Freelance Artist
Ben Jaszczak—Multimedia Specialist
Megan Ross—Digital Services Coordinator
Comments to the editor
magazine@mtu.edu
Class Notes submissions and mailing address changes
alumni@mtu.edu