Forty years of the Michigan Tech Student Foundation, and the new Staley Endowed Faculty Fellow position in the School of Business and Economics.
Michigan Tech Student Foundation: 40 Years of Huskies Helping Huskies
In the fall of 1977, six college students met with Ron Helman, then executive director of the Michigan Tech Fund, to create the Michigan Tech Student Foundation (MTSF). The mission: to inspire student philanthropy.
MTSF established fundraising programs benefiting students: mailings for birthdays and exam treats, a senior giving program, selling mini mascots, and staffing the call center where students phone alumni.
Forty years later, the mission of MTSF continues.
"It was vital to have students become aware of funding, where the money comes from, and how important it is for alumni to support their alma mater," Helman says. "It was great seeing students involved and to share in their enthusiasm."
Helman, known to MTSF students as Uncle Ron, came to Michigan Tech in 1976. He was promoted to vice president for advancement in 1987, serving in that capacity until his retirement in 1996.
While working on campus, Helman enjoyed connecting with students, offering advice, and talking with them about what was happening in their lives.
One of his career highlights was the 1983–87 campaign conducted by the Michigan Tech Fund and the University. The campaign goal was $40 million; $50 million was raised. Another highlight was founding MTSF, getting to know and work with students, and watching MTSF grow throughout the years.
In 2000, Helman helped create Center Court Club (C3) for women's basketball. Each year, local fans support the team by attending games, providing dinners in their homes for the players, and making a financial donation to the team.
Ron and his wife, Lou Ellyn, have a daughter, two sons, and eight grandchildren. The Helmans contribute to Michigan Tech through scholarships and have included Tech in their estate plans. "It's a natural thing for us to give back to the University that played such an important part in our lives," Helman says.
Were you a member of the Michigan Tech Student Foundation? We'd like to hear your story. Connect with us: alumni@mtu.edu
MTSF Alumni from 1978 to 2018
Making an Impact. Creating the Future. Ron '77 '80 and Linda Staley
Helping attract and develop the best educators for engineering management at Michigan Tech is just one of the reasons Ron and Linda Staley made a recent gift to the School of Business and Economics.
The couple created the Staley Endowed Faculty Fellow for the continued growth of the new Bachelor of Science in Engineering Management degree.
"A single scholarship can make a major difference to a student, providing the means to obtain their college education," Staley says. "That professor who really helps you learn, who inspires you, whose knowledge-sharing can turn into something special and be a path for your career, that professor is the game changer for potentially hundreds of students."
"Linda and I appreciate people who dedicate their careers to educating future leaders, and we want to support those individuals at MTU." Staley says that when classmate and professor Dana Johnson and School of Business and Economics Dean Dean Johnson (not related) shared their vision for the new degree program, he saw great possibilities for students.
To Staley, it is exactly the path Michigan Tech helped him create when he earned an associate's degree in civil engineering technology in 1977 and a bachelor's degree in business administration in 1980.
"The combination of technical knowledge and business acumen is important to all engineer, says Staley." Working on engines, old cars, and motorcycles led Staley to a career in engineering. He has worked for more than 30 years with The Christman Company where he specializes in historic preservation for monumental buildings. He serves as senior vice president, regional manager for Southeast Michigan, and executive director of historic preservation.
"A degree in engineering management can be used in so many engineering fields. I wanted to support the program."
Staley has worked on state capitol buildings in Michigan, Maryland, and Virginia; President Lincoln's Cottage in Washington, DC; the US Capitol Building; and projects in Morocco, Poland, and most recently, Cuba to work on Ernest Hemingway's historic Finca Vigia. Other memorable projects include Henry Ford's Fair Lane estate and multiple projects for the National Park Service in Calumet.
His time at Tech taught Staley to work hard—and that discipline helped define his life. "I had technical skills that opened doors for unique opportunities. But it was my business background that developed those opportunities into a career."
Giving back to his alma mater that shaped his education and career is important to the couple.
"I'm not ready to retire anytime soon, but Linda and I talked extensively and while we've always planned that Michigan Tech would be in our estate planning, it was this new degree program that helped us really say 'we can make a difference.'"
Dean Johnson says gifts like the Staleys' are transformational—for students and faculty.
"The School has benefited from Ron and Linda's contributions of their time and student scholarships," Johnson says. "The Ron and Linda Staley Endowed Faculty Fellow position propels the School of Business and Economics forward in delivering technology-infused experiential business education."
Staley said he and Linda hope their endowment donation helps Michigan Tech's engineering management program grow.
Thirty Years of Giving
When Staley made his first gift to Michigan Tech in 1983, he sent his support to the School of Business and Economics, says Eric Halonen, assistant vice president for advancement. "With that first gift, Staley showed he was supportive and appreciative of his Tech education. Since then, he has continued to grow and establish his giving, most recently with his and Linda's generous estate planning gift."
The Staleys also support the School of Business and Economics with the establishment of a new engineering management scholarship for incoming students. This endowed scholarship recognizes an outstanding first-year engineering management major.
Outside the office, Staley is a pilot with three airplanes: a WWII-era North American T-6 Advanced Trainer, a 1981 Russian Aero L-39 jet, and a Cessna 414. The couple travels across the globe, on trips to Thailand, Greece, Italy, and Mexico.
Our Time
Huskies have one less excuse to be late for 8 a.m. classes. A 35-foot clock tower in the heart of campus was made possible thanks to a generous gift from Bill '69 and Ilene Bernard and their family.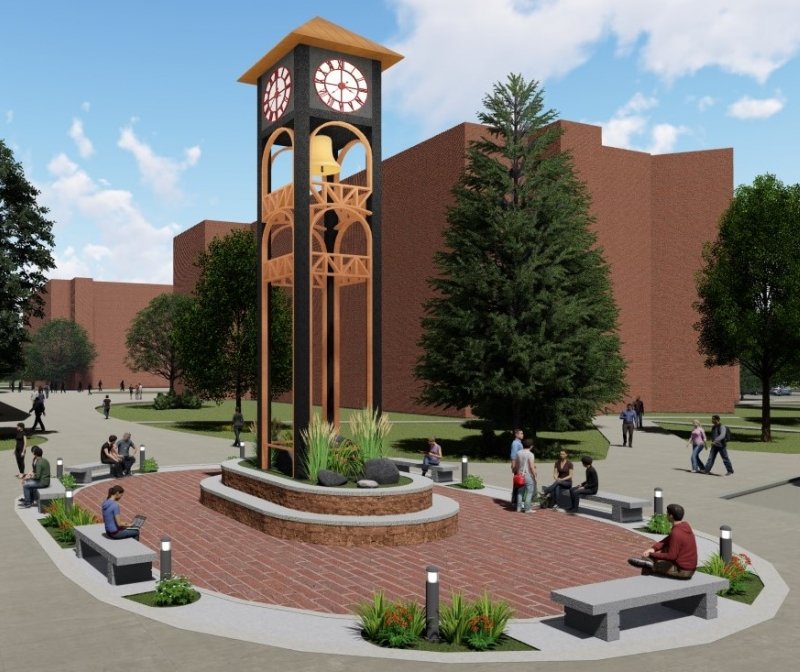 Help beautify campus—support the Alumni Way project. Track progress by viewing our Clock Tower Constructions webcam.
Michigan Technological University is a public research university founded in 1885 in Houghton, Michigan, and is home to more than 7,000 students from 55 countries around the world. Consistently ranked among the best universities in the country for return on investment, Michigan's flagship technological university offers more than 120 undergraduate and graduate degree programs in science and technology, engineering, computing, forestry, business and economics, health professions, humanities, mathematics, social sciences, and the arts. The rural campus is situated just miles from Lake Superior in Michigan's Upper Peninsula, offering year-round opportunities for outdoor adventure.