Geospatial Research & Analytics Laboratory (GLRC 316)
The GRF's Research & Analytics Lab, often referred to as "The Situation Room," is perfect for research strategy meetings, facilitating collaborations, hosting teleconference meetings or technical workshops. Knowledgeable and friendly GRF staff are available on site to assist MTU faculty, staff, and students with all their geospatial research project needs. Stop by anytime!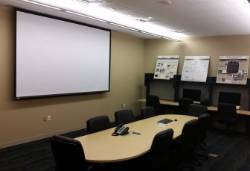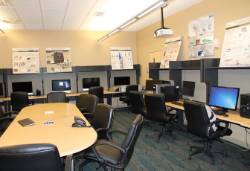 This lab features:
10 state-of-the-art GIS workstations with dual screens, upgraded processors, and video cards
Workstations outfitted with GIS, remote sensing, environmental engineering, and machine learning applications
Large screen and high-definition projector
Luxurious 12-seat conference table
High-resolution video-conferencing technology
Large, double-side, mobile dry-erase whiteboard
Geospatial Teaching and Outreach Laboratory (GLRC B003)
The GRF maintains a 12-seat GIS computer lab optimized for on-campus courses, remote-learning courses, seminars, and technical workshops.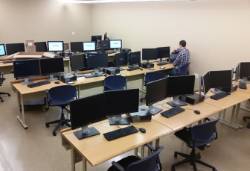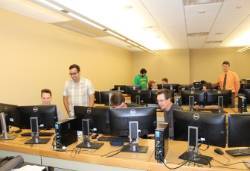 This lab features:
12 state-of-the-art participant GIS workstations with dual screens, upgraded processors, and video cards
Workstations outfitted with GIS, remote sensing, environmental engineering, and machine learning applications
One state-of-the-art instructor GIS workstation with projector and participant screen-sharing capabilities
Large Format (11 x 17) color printer for map outputs
Screen with high-definition projector
Three large wall-mounted dry-erase whiteboards