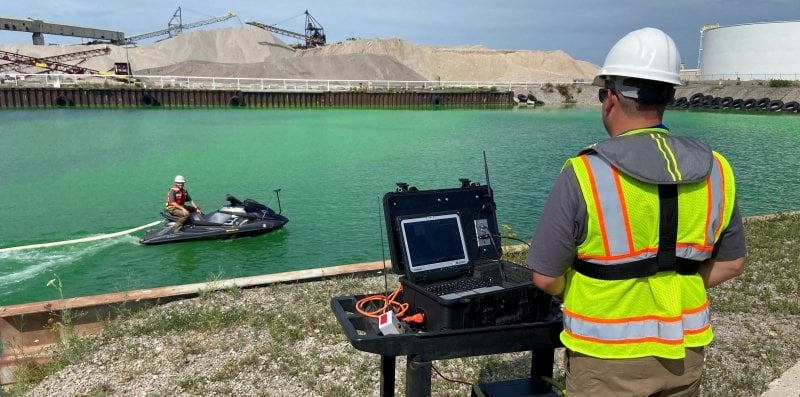 The Great Lakes Research Center, in conjunction with MEEM faculty and students, have integrated an autopilot system developed by UAV Navigation onto a Yamaha FX Cruiser SVHO, a personal watercraft (PWC). The newly integrated system will make the vehicle capable of unmanned, autonomous operation; while maintaining the PWC's ability to be driven manually by a human operator.
Controlling the vehicle's throttle and directional shifting (forward, neutral, reverse) was accomplished by developing a custom embedded controller linked directly into the PWC's internal communication system. Yamaha Watercraft Division engineers provided high level support to answer technical questions and ultimately made it possible for us to be able to command and control the PWC engine functions, including start/stop, directional shifting, and throttle emulation. Vehicle steering is controlled by an industrial linear actuator attached to an auxiliary steering cable that is connected to the jet nozzle. In addition to communicating with the internal system of the PWC, the embedded controller also acts as the interface to the UAV Navigation autopilot system. The embedded controller interprets outputs from the autopilot system and initiates the corresponding desired behavior from the watercraft.
The integration of the UAV Navigation autopilot system has been completed and performance of the system has been verified in a lab setting. Lab tests included demonstrating that the engine can be started and stopped, the throttle manipulated, and the steering actuated via commands sent from the UAV Navigation control interface. Summer 2022 will see the first field deployment of the PWC in the MARS testbed, at which time control system gains will be tuned and system performance in a real world setting will be optimized. GLRC technical staff have been trained by UAV Navigation on their software and autopilot system to ensure safe and efficient operation of the vessel.
An antenna mast and instrument rack were designed and installed on the vehicle to provide permanent mounting locations for autopilot system components and high definition cameras to provide real time remote vision capabilities. In addition to providing mounting for the current system components, additional mounting options are available for adding new capabilities to support scientific applications, educational outreach, and marine autonomy research within the MARS testbed. A multibeam sonar system will be added to the PWC in the future, contingent upon funding, to enable capabilities such as high resolution bathymetric surveying, habitat mapping, and fish population assessment.
It is anticipated the PWC will be mission ready early in the 2022 field season for research in the Laurentian Great Lakes Basin. The GLRC will continue to pursue relevant funding opportunities to help build out the capabilities of the autonomous watercraft asset with plans to add intelligent features such as collision avoidance and path planning based on machine learning and artificial intelligence. The vehicle will be made available for collaborative use by students, instructors, research faculty and staff, and external partners.